Hey You! Agencies in the Tri-State Area!
As we were putting together the final program for PROMONext 2016, our annual conference around promotion marketing, we surveyed brand marketers about the challenges they face. They told us that their top challenge was measurement and demonstrating the ROI of their campaigns. I hear from many of you about the pressures to measure and prove ROI for your clients, a real challenge in this multi-channel marketing landscape.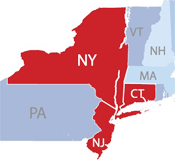 With that in mind, we set out to find top practitioners at leading brands that can help agencies and marketers with measurement challenges. You'll hear about some of those solutions at PROMONext, June 14, 2016, in New York City during a half-day power-packed educational program.
When you attend, you will learn.
How a global brand like Heineken breaks through the clutter—to be locally relevant to Millennials
How Jack Daniels recruits "new to whiskey" consumers through the introduction and marketing of new flavor offerings.
The tools Chicken of the Sea uses to create maximum momentum in the shopper's experience
Ways Velcro uses influencers to create innovative opportunities to engage with consumers in a more organic manner that is scalable
How MasterCard turned the 2015 British Open into a "Priceless" event that drew new cardmembers
This all-star speaker lineup tackles tough questions like how to manage the lack of campaign trackability and best practices for tying spend to ROI. You'll leave with best measurement practices for your own campaigns and a deeper understanding of how new technologies can help.
I look forward to seeing you in New York.