How Cotopaxi Approaches Brand-Building at Scale Through Impact-Driven Partnerships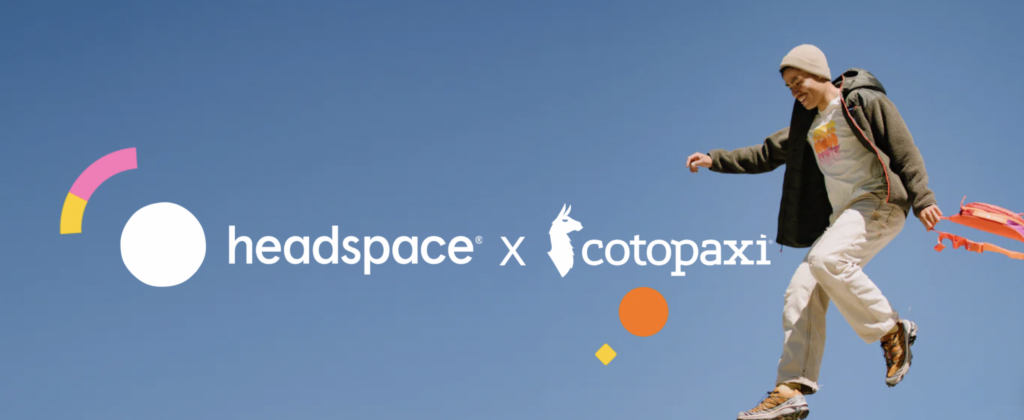 When we last spoke to Cotopaxi's Chief Brand Officer Brad Hiranaga, he was just settling into his new gig at the sustainable outdoor apparel brand. He touched on his vision for the mission-driven company, the intricacies of storytelling at a founder-led operation and insights gleaned from leading tops brands at General Mills.
A year later, he's put those strategies to the test through multiple partnerships with like-minded businesses. The brand just launched a new partnership with meditation app Headspace to help spread Cotopaxi's mission of tapping the transformative power of adventure to do good in the world. With a purchase from the limited-edition collab, shoppers receive a two-month Headspace membership as well as exclusive content from one of the app's meditation gurus.
The brand ventured into the music festival space with an activation this year at All Things Go in Columbia, Maryland, an indie-minded event that attracts a predominantly younger, female crowd of nearly 50,000. It also partnered with performance brand Hoka on a bag from its colorful Del Dia line to complement Hoka's trail shoe. The collab supported True Colors United, a nonprofit dedicated to ending homelessness for LGBTQ youth. And in January, Cotopaxi will be the official jacket sponsor for the Sundance Film Festival.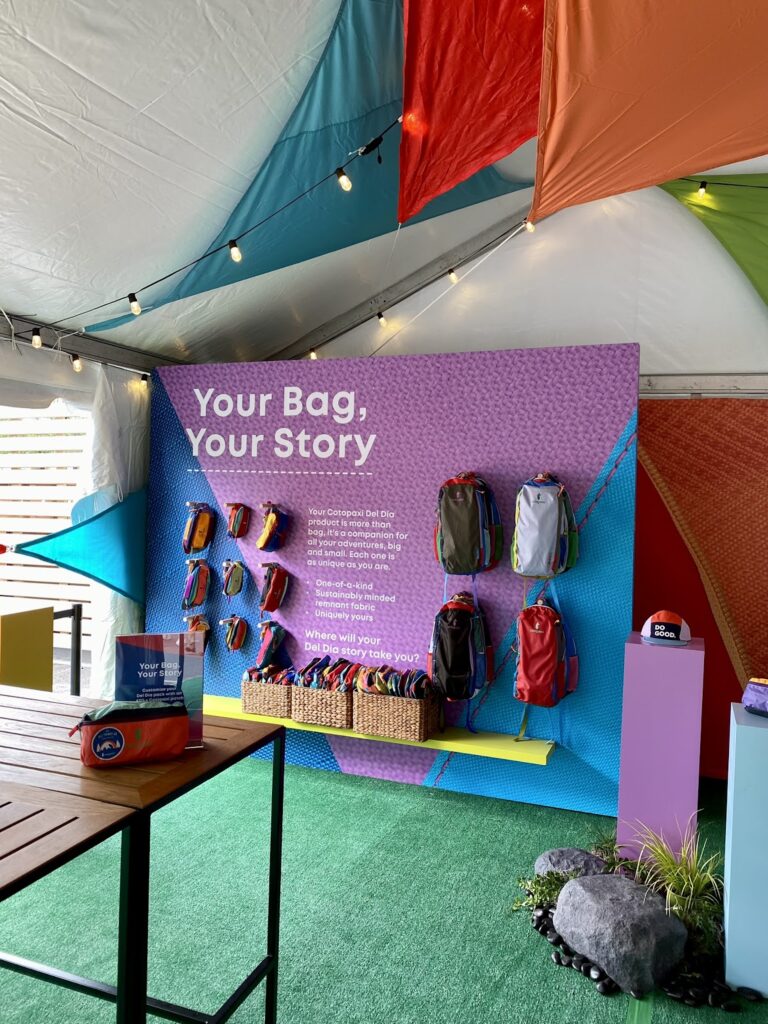 Scaling a Mission-Based Brand
Hiranaga outlined three important strategies to keep in mind when scaling a mission-driven business through partnerships. First, there must be a degree of alignment between each brand's purpose. "That doesn't necessarily mean that the Venn diagram has to like be a hundred percent on top of one another, but there needs to be some overlap and [evidence that] we're trying to achieve something that's similar," Hiranaga said. With the Headspace collab, for instance, the companies align on improving mental health and mindfulness through connecting with the outdoors.
Second, in addition to collaborating on something interesting from the products and services perspective, consider the impact. Cotopaxi's business model has supported its commitment to alleviate poverty from day one, so it's important to partner with impact-driven companies or involve organizations that support the mission. "Is there an element of good that we can drive that we're holding ourselves accountable for and we can activate behind together?" Hiranaga said. "Because as an impact-driven brand, that's going to be something we think about in every marketing action that we take. It needs to be even more elevated in a partnership—and that makes the partnership a lot stronger."
Third, find a partner whose audience is separate from your own. "As a younger brand that's trying to scale, we're looking for a partner that has a different audience than we have and that introduces people to our brand in a way that we're going to be excited about," he said. "If we share all the same audience, it doesn't propel us forward as much."
View this post on Instagram
Leaning Into Experimentation
The goal is to show up in many places to meet audiences through different ways. "Being young, we're able to experiment with that," Hiranaga said. "But those experiential, highly-social, in-real-life moments for the brand are really crucial. We're trying to balance expanding the brand with those elements and telling broader stories that we can reach more people with through broader media."
Cotopaxi's strong direct-to-consumer channel helps support that experimentation. It's also ramping up the physical retail component, with nearly 20 stores by the end of year. That direct connection allows the brand to understand what didn't work very well, or identify an interesting idea that's taking hold and run with it. "We're trying not to lose that as we scale, and keep the entrepreneurial spirit. That's the balancing act," Hiranaga said.
"We try to make these partnerships mission-driven, but also as comprehensive as possible, and then interesting and compelling for a consumer that like will want to commercially invest in it. And if we get all those things right, it's a great way to like build a brand and get awareness. We don't have to drive a ton of media behind it."