Brands on Fire: Topgolf CMO Geoff Cottrill on the Brand's Awareness Play, New Creative and International Expansion

Topgolf is on a mission to make the sport of golf a lot more accessible. Traditional barriers to entry—a country club membership, a set of clubs, a rigid dress code—are crumbling fast, and the sport's gamified version is front and center in that effort.
"If you think about entering golf through the traditional lens, it can be a very intimidating introduction to the game," said Topgolf CMO Geoff Cottrill. "And if you're not good at golf, you have to really invest." But the sport is in the midst of a major shift, he says. It's becoming more accessible and diverse, and the way people are entering and experiencing the game is changing.
Topgolf itself is expanding rapidly, with plans to open 11 new venues a year for the next five years. That amounts to three to four million new Topgolf players per year, Cottrill estimates. "We're trying to make the game of golf more accessible by removing the barriers, making it more fun, with music, food and just a good time," he said.
We spoke with Cottrill about how the game of golf is changing; Topgolf's new brand campaign and zany animated spot; the company's plans for growth; his approach to influencer marketing; and more.
Chief Marketer: What's the purpose behind your most recent campaign?
Geoff Cottrill, CMO at Topgolf: Our core conviction as a brand is believing in the unlimited power of play. We live in a world where the older you get, the less you're encouraged to have fun, let go and play. About a year ago, we launched our first-ever global campaign with the tagline, "Come play around," and a visual representation of what an experience at Topgolf's like, the unique combination of golf and not golf. It helped us build new awareness in the marketplace. Then we went back and said, what's the next phase look like? The first time we just showed people playing. This time we wanted to do it with a different representation, visually.
CM: What was the marketing goal with this second phase?
GC: For this version we wanted to amplify the spectacle and the joy that you feel when you play at Topgolf, the bigness of the venue, yet the intimacy of what happens in the actual bay itself. The goal was to make it playful, memorable, a little bit outlandish, animated. We're building awareness in the marketplace. We've been around for 20-plus years, but we still have relatively low awareness. So we've got to step out and disrupt a little bit. You're going to start to see a number of interesting things coming out over the next couple of months.
CM: Where did the animation idea come from?
GC: We decided to create a whole new world and set of characters that are based on real people, but fun and engaging. We're introducing a group called the "Hand Head crew." We shot a bunch of film with real people playing Topgolf and then went back in and put Hand Heads on them instead. And then used the expressions of hand emojis and hand signals—high fives, low fives, handshakes—to express the joy of how it feels to play golf. Instead of showing someone's face, it amplifies and brings these things to life. Why hands? They're expressive. We live in an emoji culture. It's also a golf glove. You eat and play golf with your hands, and they're a humongous part of the experience itself.
CM: Are you creating any extensions to the campaign, like merchandise?
GC: With our partners at Callaway we're doing a whole set and series of golf gloves that match the heads. Then we're doing Snapchat filters and we'll do some stuff on Instagram as well, so you can turn yourself or your friends into Hand Heads. We're doing a full-page in Vogue to be a little bit disruptive and have a sense of style.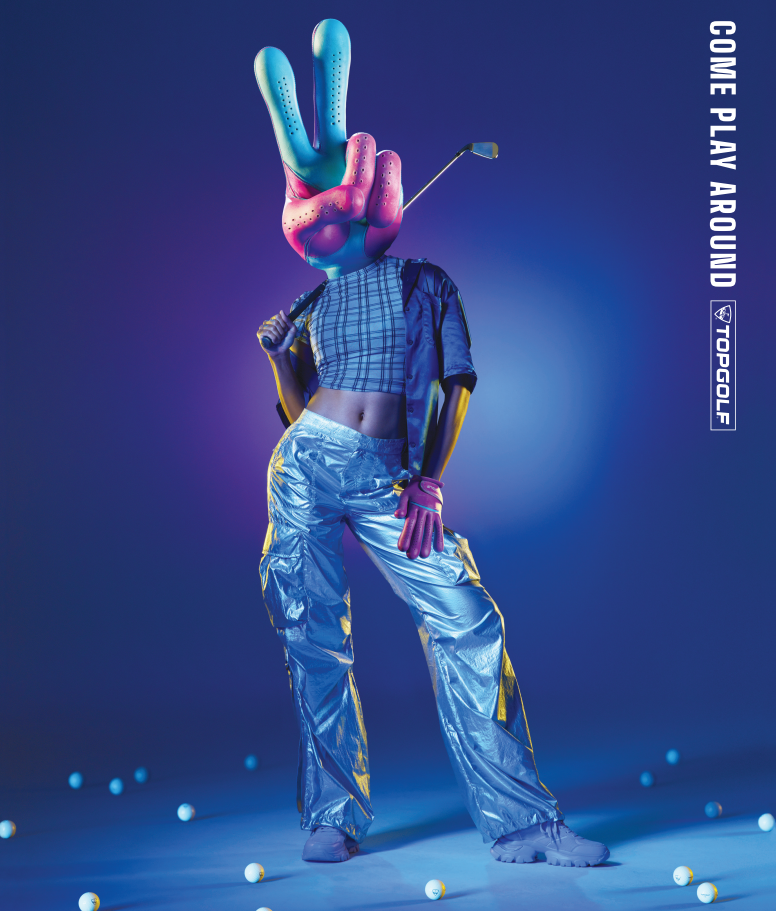 CM: How are you distributing the campaign to consumers?
GC: We've got the :60, the :30 music-only, a :30 with voiceover and a whole bunch of :15s that talk about families, going out with friends and our half-price Tuesday platform. Then we'll have a whole bunch of six- and seven-second pieces for social. We'll do out-of-home. We'll also do some print; we'll be in Hypebeast, Golf Digest and Vogue, for a bit of a record-scratch moment. Then we may pop up and do some fun stuff during Fashion Week.
CM: What's your pitch to people who've never played golf before, or to those who may be intimidated by traditional barriers of entry to the sport?
GC: Most of the people who come to Topgolf have never played golf before. And a lot of people that come to Topgolf will never go on to play golf. But golf is a sport that's got a long history, a lot of great traditions, but also a lot of barriers to entry for people to be able to even attempt the game for the first time. We're trying to make the game of golf more accessible by removing the barriers, making it more fun, with music, food and just a good time.
The game of golf needs to be and is becoming more diverse. And we're one of the driving forces around that. And then as the game becomes more diverse, it becomes more fun for more people. We're constantly inviting people in to play for the first time. A lot of people come for a first date. A lot of people come in through our leagues. A lot of people come in through a company corporate event. We want that experience to be one that you remember is fun and associated with laughter.
If you think about entering golf through the traditional lens, it can be a very intimidating introduction to the game. You go to the country club or the place to get lessons. Are you wearing the right clothes? Do you have the right shirt? Is your shirt tucked in? Do you have your clubs? If you're not good at golf, you have to really invest.
This past year there was a shift: off-course golf—for the first time in history—is bigger than on-course golf. And more than 80 percent of off-course golf is represented through Topgolf. So, the way people are entering and experiencing the game is very different. And the result we projected out, in five-to-10 years, is going to be pretty profound on the game.
CM: What are your plans for expansion?
CG: We're building 11 venues a year for at least the next five years. Every year, with those venues, we're adding somewhere between three and four million new players, new golfers, new people coming into the sport. We're growing internationally as well. We just opened a massive venue in China. We're in Germany; we've got plans to go into Spain. We're in Australia and Thailand.
CM: Have you targeted specific types of consumers?
GC: I don't use the generational labels that most people use. Gen X, millennials… we don't use those ways of thinking. We've done personas. We've got seven different personas that we've developed that all are entering the game of golf or looking for leisure and entertainment activities in different ways. We've gone deep with each of those seven and we know where they're living, what media they're using, what social media they're using. It's young people, it's families, it's people who play golf, but it's also parents who play golf and have young kids that want to experience something new. We just announced a huge relationship with the Special Olympics. Topgolf will become a medaled sport in the Special Olympics. We're already hosting practice competitions across the country.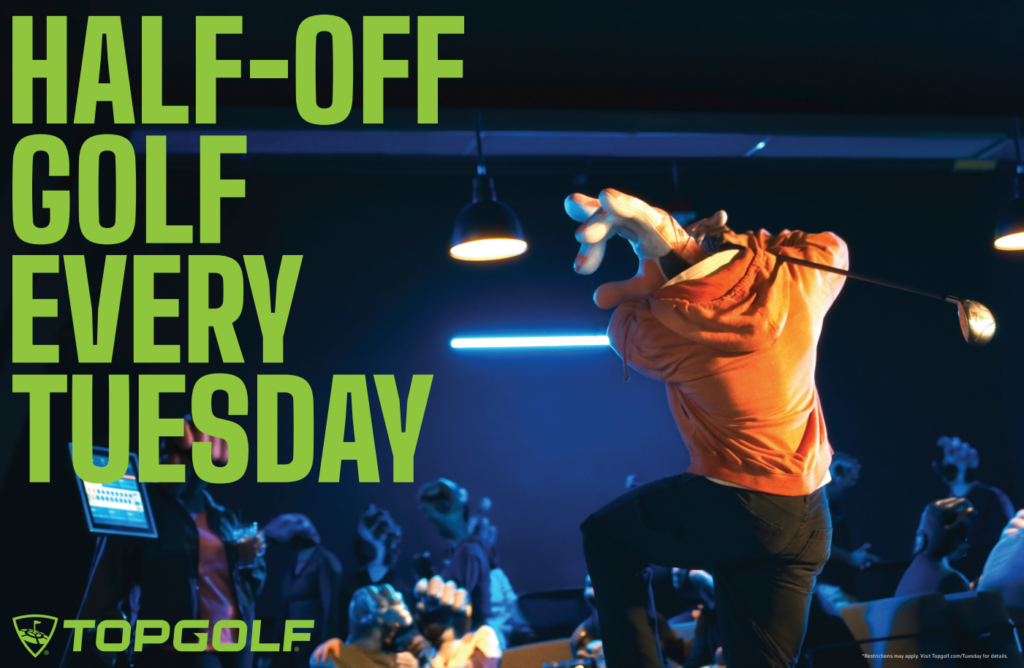 CM: What other actions are you taking to make Topgolf more inclusive and diverse? And how does influencer marketing factor into that strategy?
CG: We've developed what we call "friends of the brand." I don't use the word influencer. I know marketers are so fascinated and enamored with that word. I think it's ridiculous that we've gone so deep on that. Everyone has influence. Everyone you interact with and meet and do things with has influence. We went out and found 25 or 30 people from all walks of life who are somehow changing the game of golf and we're working with them to do things that are important to them. Like Roger Steele, for example, a kid from Chicago. He's breaking down some of the barriers, so we're doing things with him.
We just did a big program with the Divine Nine, the original nine fraternities and sororities from historically Black colleges. We had a tournament on a Saturday in all of our venues across the country where people from those fraternities and sororities came and played against each other, with a leaderboard that was nationwide. We work with the folks at Eastside Golf, a couple kids who grew up on around the East Lake area of Atlanta—professional golfers dressed head-to-toe in Jordan who are literally changing the game of golf. It's not about us doing stuff. It's about us participating and helping these people that are changing the game of golf and providing a platform to help them do that. They're the ones who are driving the change.