A Marketing Spot for Space Nerds
It's a wonder that the space-nerds from "Big Bang Theory" didn't come up with this idea: an experimental "space balloon" that will circle the earth in an attempt to remove space junk threatening working satellites and spacecrafts. And, according to NASA, we sure could use one.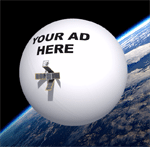 NASA says that more than 500,000 pieces of debris, or "space junk," are tracked as they orbit the Earth. Each piece travels at speeds up to 17,500 mph, fast enough for a relatively small piece to damage a satellite or a spacecraft.
Coming to the rescue is a California-based NASA contractor that is piloting this experiment. It is getting into marketing as well offering a brand the opportunity to join the journey. Similar to the earthly vehicle wrap, an ad would encircle the spherical balloon as it orbits 300 to 500 miles above Earth.
The team—veteran aerospace engineers—had some creative ideas of their own as to which brands might made a good fit: cleaning products or a green message fits well with the mission to "clean up" the space debris. An action brand or high-energy beverage is a good match for the orbiter, which travels at a adrenaline pumping  17,000+ milers per hour. Some brand might find the idea, well, heavenly!