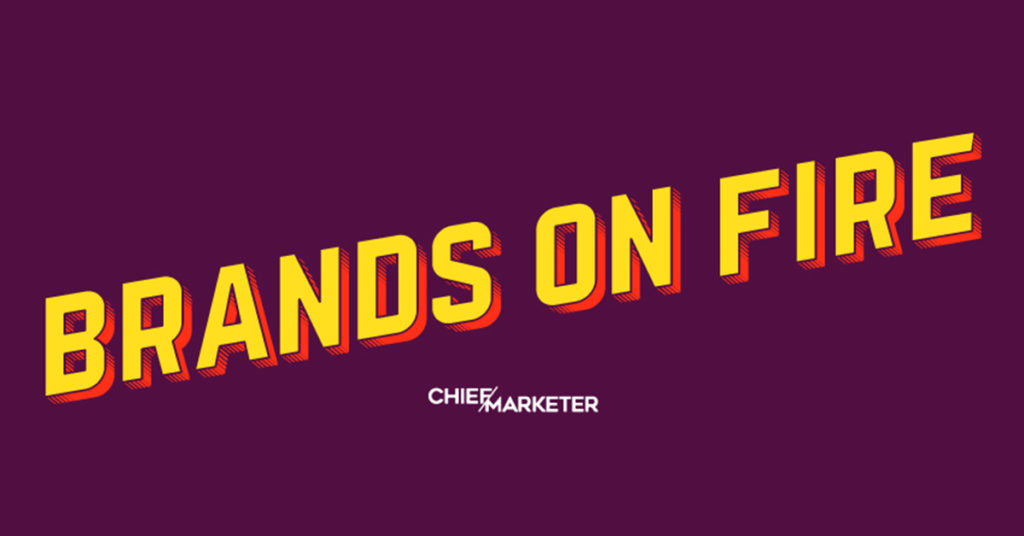 Among the shifts in consumer behavior that have emerged over the past two years, the demand for convenience—particularly when making digital purchases—is most certainly here to stay. And those companies that have embraced this pandemic-fueled digital transformation with alacrity are reaping the rewards.
One such brand is Chipotle, Chief Marketer's latest pick for our Brands on Fire series. At the start of the pandemic, digital sales accounted for 18 percent of the business. Today, it makes up a whopping 45 percent. It's invested in a robust digital ecosystem over the past three years, featuring mobile pickup, delivery, a rewards program and a gamified app experience.
The company also engages consumers digitally through gaming activations, from a virtual job fair on Discord following its $15-an-hour wage announcement to a digital, gamified version of its annual Boorito Halloween promotion on Roblox. We spoke with Stephanie Perdue, Chipotle's Vice President of Brand Marketing, about the company's explosive digital growth, its gaming and esports strategy, merchandising, menu innovation and more.
Chief Marketer: Chipotle is pretty involved in the esports and gaming space, in particular with digital activations. Can you talk about how your marketing has evolved?
Stephanie Perdue, Vice President of Brand Marketing, Chipotle: We've made a series of investments and grown our presence in the last few years. It started with understanding the media behavior of younger customer segments. Below age 34, we were seeing less time spent with traditional media, more time spent in social and more time spent in gaming. Through social listening, we realized that a lot of the pro gamers had infinity for Chipotle. As a professional gamer, your performance is extremely important. And what you eat is really important, too, for your sustenance.
We first partnered with TSM and with 100 Thieves, a great lifestyle, professional esports and gaming organization. We started working with them on their streaming platforms, on Twitch and their channels, and sponsoring huge gaming events in person. Then COVID happened, and we had an opportunity to take our gaming strategy to digital.
So in 2020, we started making a series of investments in the digital gaming space, still carrying those relationships with esports teams, but doing more things, like creating our own branded Chipotle Challenger Series tournament online featuring major game releases—Call of Duty, Halo, popular mobile games like PUBG, Fortnite. We were giving amateur gamers access to pros in these tournaments. We continue to promote the Chipotle Challenger Series. We will do one in the second quarter with a very exciting game.
CM: You've also embraced new platforms, like Discord and Roblox, to reach these audiences.
SP: We love to show up in different platforms. For instance, we created a custom map for Fortnite where gamers could farm real ingredients to make Chipotle. We also got onto a new platform, Roblox, for our annual Halloween promotion, which historically has been in a restaurant. Instead of dressing up to get a free burrito in a Chipotle, we created a virtual Chipotle on Roblox where people could bring their avatar, get free prizes, get free burritos and do a maze. From working with Tony Hawk to new games to tournaments to new gaming platforms like Discord and Roblox, all of those things have fueled our gaming strategy.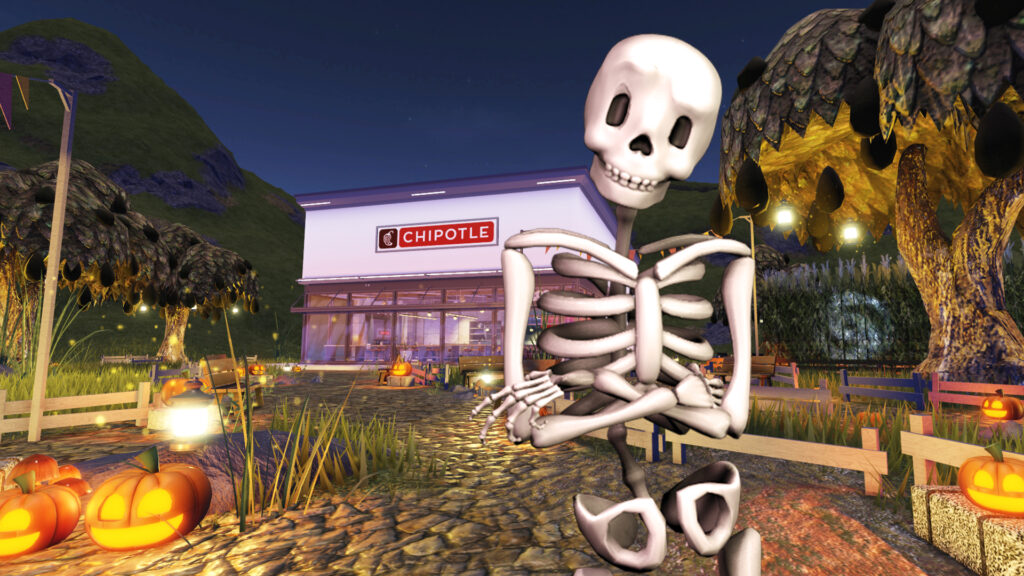 CM: So today, it's a combination of digital and in-person gaming and esports sponsorships?
SP: In the last two years it's been more digital than in-person, although that's something we'll evaluate in the year to come as COVID restrictions have recessed and people come back to IRL experiences. Early on, IRL was very important to us, but almost half our sales are digital. We have a young adult customer who is very connected with their phone and spending time gaming, so it's a really important segment for us.
CM: You've leveraged gaming for your rewards program as well.
SP: With our partnership with Halo this last holiday season, we gave our reward members the opportunity trade Chipotle reward points for gaming points for Halo, called Challenge Swaps, which gave them opportunities to level up their game. It was one of the highest-redeemed rewards that we've done, outside of free Chipotle food.
CM: Chipotle is active with merchandising, such as with your apparel line, Chipotle Goods. Does the inspiration for new products come mainly from social listening?
SP: The space is pretty crowded. When we came out with Chipotle Goods in 2020, the insight was that people wanted more sustainable clothing. They liked the idea that our clothes were made from a hundred percent organic cotton and that all the proceeds were given back to sustainable agriculture and farmers. We're doing innovative things like upcycling our avocados and using them for natural dye. Chipotle Goods is extending our "food with integrity" to clothing that's responsible as well.
We look at trends and what's happening in social—like the rise of athleisure wear. We think about the sustainability aspect of those clothes and how they can make an impact, with all the proceeds going to further responsibly-made clothing.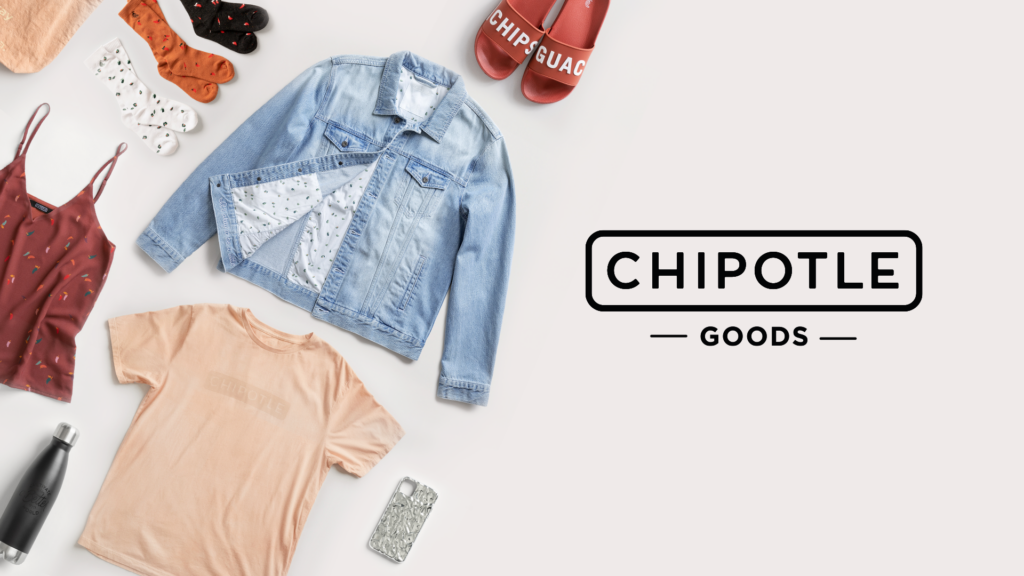 CM: Chipotle has experienced explosive digital growth in the past few years. What percentage of your business is now digital?
SP: Around 45 percent. To give you the progression, in 2018 is was around eight percent, and just prior to the pandemic, it was around 18 percent. It was growing, and it was a significant part of our business. In the last few years, they added mobile pickup, they added delivery, they added rewards. And this was all in response to consumers asking for more convenience, to access Chipotle in different ways on their terms and to be more connected to the brand.
These things were added before COVID, and then, as you know, COVID created a huge shift in consumer behavior into digital channels. Our digital business went from under a billion dollars to three and a half billion.
CM: When considering new marketing initiatives, what are the key themes and through lines that you adhere to for the brand?
SP: Our positioning is all about being real. Over the last 30 years, Chipotle has been committed to a hundred percent real ingredients that are responsibly sourced and unprocessed and it's committed to having some of the highest animal welfare standards in the category. All of our proteins have no hormones and no antibiotics. The founder was obsessed with what we call "food with integrity." He saw that he could change the industry with different sourcing practices and culinary techniques in the restaurant—sourcing whole produce, hand mashing our guac.
Everything that we think about, when it comes to our brand advertising, our menu innovation, even how we talk about our recipes in social and TikTok, it's about that transparency and showing how our food is made. We think about new menu items in that sense. How do we use real ingredients to transform? We have a new chicken that just launched, Pollo Asado. We use fresh lime juice and fresh-cut cilantro. So, all of our menu innovation goes through those filters.
In our brand campaigns, our own employees are featured in our advertising. They're highlighting our fresh cooking and our commitments to responsible sourcing. At the end of the day, that's why the brand exists and what we want consumers to take away. We love to find new ways to talk about what we stand for, and then connecting into culture in exciting ways with disruptive platforms, partnerships and finding avenues where Chipotle is different.