New Health & Wellness Influencer Network Brings Greater Reach to Marketers
I had dinner last week with a friend and business associate, Karen Koslow, who with a few other entrepreneurs, has launched an influencer marketing network in a vertical that is not as well developed as the fashion, food and gaming categories are: Health & Wellness.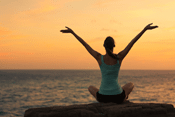 The company, Wellness Amplified, offers a new opportunity for marketers to reach both digital and in-person credentialed health & wellness influencers with hundreds of thousands of health-minded, wellness-aware fans and followers.
These digital influencers are credentialed experts, practitioners and trusted advocates across a range of health & wellness areas such as healthcare, nutrition, fitness and, even pet care. Unlike other categories, the opinions and recommendations of these trusted experts have genuine influence with consumers concerned about their health and well-being. The majority of these health & wellness influencers fall into the "power middle" set with 10,000 to 150,000 followers. Recent research has shown that working with high-profile celebrity influencers can in fact be less impactful than when working with the lesser-known, yet highly trusted power middle influencers.
"So many accomplished wellness practitioners working every day to make a difference in people's lives—and so many brands that want their authentic recommendation. Bringing the two together is our mission," Koslow says.
The in-person influencers are a network of office-based healthcare providers and venue-based health & wellness professionals like medical doctors, registered dietitians, health coaches and fitness professionals.
While this venture is still new, it is getting great reception from the marketing community and adds a new layer to the influencer marketing industry. We'll watch and see where this goes next.