Voice-Activated Technology Goes Mainstream: Are You Ready?
Voice-activated technology has moved into the mainstream offering plenty of opportunities for marketers.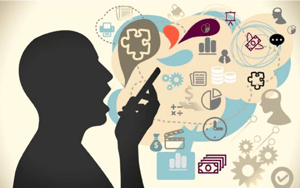 Smart speakers like Amazon Echo and Google Home are now owned by 43 million people age 18 and older in the U.S.: That's a huge audience that needs to be understood by marketers. It is distinct in terms of user profile, behavior and media habits that continue to change rapidly, according to new research from "The Smart Audio Report" from NPR and Edison Research.
Brands in every sector are experimenting with voice-activated technology as part of their marketing strategy to get consumers used to 'talking' with them versus 'listening' to them. CMO.com put together a roundup of eight brands and how they are using voice activation including, Patron Tequila, Whirlpool, PayPal and Burger King.
While the majority of respondents continue to use voice to get the typical information they want about their day like weather reports, listening to music or asking a general questions, the study revealed plenty of opportunities for marketing.
"First adopters demonstrate more advanced smart speaker use—controlling home security and other household devices. Early mainstream users are relying on their smart speakers for a wider range of daily activities—ordering food, making calls, getting traffic reports, researching products and shopping," the report said.
---
Other articles you might enjoy:
---
The Stats
Some 54 percent of smart speaker owners are women, 46 percent men. Twenty-six percent are early adopters, meaning they owned the device for one year or more, with 74 percent owning the speakers for less than one year. Interestingly, the largest percentage of first adopters are ages 55 and older (33%), while the largest percent of early mainstream users are ages 45 to 54 (26%).
Early mainstreamers were more likely than first adopters to research an item they might want to purchase but first adopters were more likely to ad an item to their cart so they could review it later for purchase, and reorder an item they had previously purchased.
The study concluded that 81 percent of smart speaker owners are open to skills and features created by brands.
"In homes that have had smart speakers for at least a year, they are now the number one device for consuming audio," Tom Webster, senior vice president of Edison Research told GeoMarketing.com. "This has profound ramifications for anyone in media and advertising. For millions of Americans, smart speakers are truly the new radio."
Forbes outlined three considerations to stay ahead of this massive shift in consumer behavior.
1. Adapt AI
To thrive, businesses should develop AI that can speak to multiple assistants and adapt offers to bypass the digital gatekeeper.
2. Creativity will be the Priority
"Combining phonic wit with chatbot sophistication will allow human talent to merge with digital businesses. Alongside efficiency and speed, voice technology needs color, nuance, empathy and humor in order to grow and differentiate itself," Forbes said.
3. Widespread Experimentation
Target, Johnnie Walker, Tide, Nestlé and plenty of automotive manufacturers like Ford and Jaguar Land Rover are among the legions of brands testing and experimenting to find ways to use voice technology in more personalized ways to connect with consumers.