Two Creatives Send Soap Gift Boxes to Senators with Chilling Messages
Two creatives have joined the student activism around the Majory Stoneman Douglas High School shootings that took the lives of 17 students and staff members on Valentine's Day.
The two are targeting 10 Republican senators through a soap gift package that carries the message: "Blood on your hands," Adweek reported.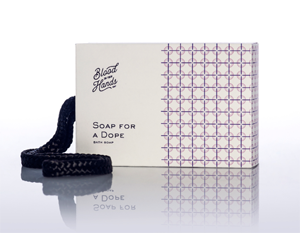 Freelance copywriter and associate creative director Jeff Marois and freelance art director and designer Ryan Raulie worked on the "gift boxes" and corresponding website for about a year before launching. The products are available to be purchased or messages can be tweeted out.
"It's inspiring to see those kids take over that whole moment and push the envelope a little bit. We went from there," Marois told Adweek.
At the Blood on Your Hands Soap website a message reads: "Are you an NRA-backed lawmaker? Do you love having all that NRA campaign money, but hate having your fellow Americans' blood on your hands? Well, you're in luck. We at Blood On Your Hands Soap are thrilled to offer you this beautiful soap gift set. Each soap is crafted to help you wash your hands of any responsibility in the nearly 13,000 gun deaths that occur in America each year. We hope it helps. And if it doesn't, we've kindly provided you with a few more sensible ways to get the blood off your hands."
---
Other articles you might enjoy:
---
Five soaps are included in each gift box or can be requested individually:
• Bump Bar—supports a bump stock ban
• Soap for a Dope—Supporting the gun show loophole
• Ivory Tower—Supports gun violence research
• Thin Republi-skin—Supports legislation that regulates the sale of guns online
• Home is where the Violence is—A call to introduce legislation that keeps guns out of the hands of domestic abusers
Currently all of the items are "sold out," but requests for products can be made online and delivered when available.