Three Ways to Leverage Market Research in 2019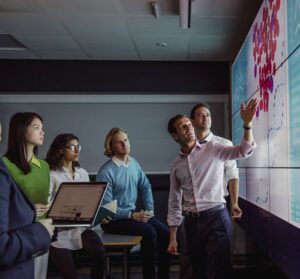 Market research is crucial for gaining consumer insight, and the landscape is constantly evolving. Here's three things to consider when leveraging research to differentiate your brand in 2019.
Powering People and Automation
There's no stopping technology. The growth of automation and automated platforms defined last year. Access to information became faster and more affordable, allowing businesses of all sizes to conduct research in a way thatdecreased costs and increased efficiency for new campaigns and products.
Bringing together all of the claimed and observed data, and then leveraging those insights at an increasingly faster pace to make critical decisions is still a significant challenge. Some campaign highlights were Nike's now famous 30th Anniversary spot featuring Colin Kaepernick, which payed off big time because it clearly struck a chord with consumer passions about a controversial subject matter. By the same token, Kraft's #familygreatly 30-second ad featuring real families and parents during Super Bowl LII used all forms of media—including social—to convey emotional sentiments that resonated with the brand's target audience about the theme of bringing families closer together.
But it's not just about immediate insights. Market research is most powerful when powered by technology and human expertise. As research becomes more automated, people in the industry providing real-time insights and solutions to brands will have a leg up in 2019 if they are skilled in data interpretation.
Engaging With New Technologies
Companies embraced a constant flow of new technologies in 2018, which will continue to actively and passively generate more and more data this year. Enterprises are looking at integrating platform-based solutions into their marketing tech stack, to evolve information beyond transactional and survey data as users seek true insights. These insights will resonate across departments, including marketing and product development.
---
You May Also Enjoy:
---
This will require a focus not solely on technology, but available data covering areas like blockchain to connectivity, and more. Blockchain provides consumers with more control over their data, while providing an ecosystem by which brands have more direct access to  high-quality consumer data.
Thecontinued advent of 5G connectivity is also a huge factor. Four major American carriers announced that they'd launch 5G in 2019. As this next phase of wireless technology becomes available to enterprises and the public there will be subsequent leaps forward in faster phones and wearables as well as emerging technology like autonomous cars, advanced medical treatments and more.
It's a GDPR World
This year marketers will start to feel the effects of GDPR and other regulations. Keeping client information confidential and secure has always been of the utmost importance. Smart companies that realize data is critical have clear terms, checks and balances. Consumers should know how their personal data is processed and in what circumstances companies may disclose that data.
Certain changes may disrupt processes and techniques for subjects to account for the necessary additional information to be shared. But the upside is that GDPR other initiatives provide both brands and consumers with an added sense of security, and control over their data.
The simple fact is the old way of conducting market research is no longer viable in today's world. At the core, the market research industry needs fully-integrated approaches to understand and adapt to constantly shifting consumer sentiment. Brands that can adapt and provide clients with expertly managed services, along with technological innovation, will undoubtedly have the competitive advantage.
Frederic-Charles Petit is CEO of Toluna.