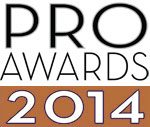 Campaign: Fiesta Movement: The Sequel
Brand: Ford Motor Co.
Agency: Team Detroit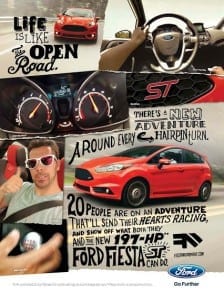 To achieve its lofty goal of increasing year-over-year sales of its Fiesta model by 20%, Ford Motor Co. had to win over consumers 18–34 years old. Unfortunately, those millennials viewed Ford as a stodgy brand. To persuade them otherwise, Ford and agency Team Detroit turned to new media—specifically social media. It gave Fiestas and cameras to 100 specially selected, highly effective social media storytellers and let them choose from among hundreds of monthly "missions" designed to show off the car's strengths to the target audience.
Designed to speak to the target audience's passions, such as tech, gaming, travel, entertainment, adventure and social activism, the missions ranged from creating a Fiesta commercial to using the car as a musical instrument. "Mega missions" included participation with events and brands popular with millennials, such as the X Games, Xbox, and The Onion, with the agents getting behind-the-scene access and other exclusive content; these partnerships expanded the campaign's reach even further. The agents' videos and images were posted on a dedicated Ford website, the company's social media channels, billboards, and print, digital, and broadcast advertising—making it Ford's first completely user-generated campaign—and also via each agent's myriad social channels throughout 2013.
Using the hashtag #fiestamovement, the agents reached more than 30 million people and generated more than 14,550 pieces of content. These in turn garnered 33.5 million views of YouTube videos, 107.7 million exposures to Instagram and Twitter photos, and 10.8 million Facebook exposures, contributing to more than 200 million earned social media exposures and more than $18 million in incremental generated media value.
As for Fiesta's sales goal? Year-over-year sales grew not just 20%, but an impressive 33%. Not bad for a "stodgy" brand, eh?