Mastercard's CMO on Taking "Priceless" to New Levels
Over two decades ago, Mastercard unveiled a commercial with a father and son at a baseball game. The spot would end with a meaningful message, "There are some things money can't buy. For everything else, there's Mastercard."
Airing around the 1997 World Series, the "Priceless" campaign caught fire and became one of the most iconic of all-time.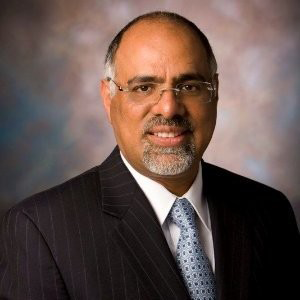 When Raja Rajamannar joined Mastercard's executive management team in 2013, as the chief marketing and communications officer, "Priceless" was still running strong. His duties ran deep at the global technology payment giant with its headquarters in New York. As the company continued to innovate, Rajammar had the same vision—Advance the "Priceless" message.
"I wanted to evaluate how that campaign was doing and how it could move to the next level," Rajamannar said.
"When Priceless launched, there was no social media, there was no digital. Life was totally different. I asked, 'how do we reflect as these changes are happening in our lives, enhance our campaign and evolve to the next level?'"
Rajamannar's focus as CMO is to connect with multiple parties; banks, consumers and merchants to urge them to choose Mastercard.
"I have to create pull," Rajamannar said.
Rather than just being simply an advertising platform, Rajamannar viewed "Priceless" as a holistic marketing platform. He was eager to make "Priceless" an integral part of the Mastercard consumer experience.
"We knew we had to go into experiential marketing, and as a part of that journey we started acquiring a number of sponsorship assets," he said.
---
You May Also Enjoy:
---
The Mastercard marketing team divided consumers into areas of interest with nine passion points from across the world, which included music, sports and movies.
"Sports happens to be a gigantic passion area," Rajamannar said. "The type of sport differs throughout the world and from person to person."
Looking just at sports, Mastercard racked up sponsorships within multiple disciplines. In addition to Major League Baseball (in which the "Priceless' campaign was launched and became one of the longest running sponsorship deals in MLB history), Mastercard engaged international soccer fans (UEFA Champions League, Copa America, the Brazilian National team and tournaments throughout of globe, to name just a few). In addition, they struck deals with notable players such as Messi, Neymar and Pele. They also looked at golf with a PGA TOUR sponsorship, tennis, hockey, rugby and even eSports.
"We try to get very deep," Rajamannar said.
Utilizing privileges and access from their sponsorship rights, Mastercard decided to offer exclusive experiences to customers. With their PGA TOUR deal, for example, some cardholders could walk with a group of players as they played their round at select tournaments and be introduced and announced to the gallery at the first tee. They even offered experiences such as on-the-green yoga sessions, elegant wine tastings and pop-up dinners on the 16th tee box at Pebble Beach. At events, they surprised Mastercard customers in attendance with autographed merchandise, discounts on merchandise or concessions, invites to private lounges, seat upgrades and behind-the-rope experiences, which were coined "Priceless Surprises."
"As of nine months back, we have already completed one million surprises. At scale in more than 58 countries around the world," Rajamannar said.
Under Rajamannar's leadership within the marketing division, Mastercard didn't stop the "Priceless" evolution there. His team saw an opportunity to actually inspire experiences, a step that took the brand from not only enabling, but now inspiring, internally referred to as going from "Priceless Moments" to "Priceless Movements."
"We are here to enable, we are here to support, and we are here to showcase. "Start Something Priceless" can be as simple putting your phone away at dinner with your family and having a nice conversation. That is truly priceless, and we can inspire something like that."
Not only did they encourage consumers to engage in these moments, they looked to create positive social impact. "Start Something Priceless" is the latest step in the "Priceless" evolution.
"We want consumers to 'Start Something Priceless'," Rajamannar said. "We launched it across the globe at the GRAMMYs with SZA. The whole idea was that she was being judged by her look and it was a sign of confidences he was showing her ability to just be great. She fought, took on challenges with passion and she came out last year as the most nominated GRAMMY female artist. That's the kind of thing we want to showcase. Let's forget about the biases and not judge a book by its cover. Let's inspire people to pursue their passion or purpose."
Mastercard has backed causes across the globe, including contributing to cancer research and aiming to end hunger. According to Rajamannar, Mastercard has committed with the World Food Programme to deliver 100 million meals to those in need.
"That is truly starting a priceless movement," he said.
Mastercard highlights their partnership with "Stand Up To Cancer" in their MLB sponsorship.
"Stand Up To Cancer works with the best scientists around the world, forming 'dream teams' in which our donations help fund to find cures for specific types of cancer," he said. "What is shocking is that they are doing it at such a rapid pace. It can take years to come from molecule stage to get approval but today, SU2C already has five drugs with FDA approval in 10 years. That's something that is truly priceless and truly meaningful. It's a big movement and we do it in a big way,"
According to Rajamannar, Mastercard has contributed more than $41 million for cancer research.
"In summary, we have had three phases of Priceless: one being the advertising platform, the second being the experiential platform and the third, the inspirational platform. We went from moments to movements to pull in passion and experiences that one cannot buy," Rajamannar said.
"It is working brilliantly for us… From the bank level, you can run all of these promotions for your customers. They're eager because they are trying to win their own battles. We give them a chance to do just that. We enable our partners and customers to win. That's how it all works as a part of the whole ecosystem."