Marketing Automation Helps Lego Education Connect With Teachers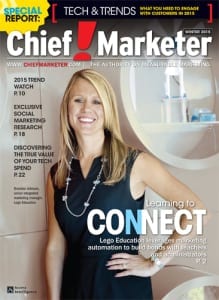 Every parent knows two undisputable facts about Legos. Their kids love them, and those plastic bricks hurt like heck when with you step on them barefoot.
But what parents might not know is that Legos are a valuable classroom tool, beloved by not only the students but teachers as well. This is Lego Education's target audience, and the Pittsburg, KS-based U.S. division of the Denmark building toy giant is improving its communications with everyone in the educational buying chain with marketing automation.
Lego Education North America's core target market is educators for preschool through middle school, says Brandee Johnson, senior integrated marketing manager, who joined Lego three years ago. "Teachers are strong influencers and may have some purchasing power for lower amounts. We also target administrators, principals, superintendents and others who oversee curriculum."
CLASS IN SESSION
There is some seasonality related to educational buying, related primarily to budgets, she notes, adding that this can vary depending on the area of the country or whether things like grant funding come into play. There's also the matter of reaching teachers when they are in school and on the grid.
The company has a strong web presence, and drives some sales directly through LegoEducation.com, as well as through a 15-person in-house sales team, and some outside sales reps, all assigned to specific territories. While the company does receive individual orders from teachers, it is seeing more and more school and district level orders too.
Johnson was with Lego Education for about a year before the company pursued a marketing automation solution. It had been using a smaller email tool that allowed for some basic list management and email functionality, like sending single emails to a list within the contact database, but the tool didn't have any integration with the website.
"We could enter leads that had been captured at a trade show but we lacked maturity in our ability to maintain strong lists and deploy automated marketing campaigns," she notes. "If you think about it, if you're sending a single email, you lack scalability, so you can only do what your staff can do manually."
Not needing a lot of IT support with the system for its 8-person marketing team was a selling point for Lego Education when it was looking for an automation solution. "They're sophisticated marketers and needed a system that they could put into place without having to go to IT for a lot of assistance," says Atri Chatterjee, CMO of Act-On Software, which helps Lego Education facilitate its automation strategy. "In an email system you can get some segmentation, but you're not getting the benefit of being able to look at multiple channels and nurture leads."
In B2B marketing, particularly in education, you need to consider buying and planning periods, he notes. "You want to try and work with the buyer and get in front of them at the right point of time, to establish a presence and get mindshare and nurture them."
Education is a very well-defined vertical market, Chatterjee notes. "It isn't so much about finding the organization but about getting in front of them, and engaging them to get a dialogue to get the funnel started."
Lego Education looks at a number of variables when targeting, including demographic and firmographic profiles, job titles and behavior. "This is where the nurturing comes in—what actions have people taken and where are they in the cycle," Chatterjee says.
BUILDING THE FILE
The company obtains leads in a variety of ways. Many are captured organically, and Lego Education purchases names of educators based on title for direct mail and email campaigns. Gated website content, webinars and contests are also utilized. The company attends many national and local trade shows, and hosts its own events as well.
Gated content takes several forms, including previews of curriculums for classroom Lego kits, giving potential buyers a sneak peak of how the products could be used in a teacher's class. Webinars often focus on specific products, to give current customers ideas on new ways they can engage students with Legos.
The brand sends over one million emails each year, including about 15 targeted automated campaigns. Email promotions take numerous forms, depending on where the customer is in the funnel. Monthly newsletters target different age levels, while marketing emails highlight specific products. Emails also alert teachers to contests, such as a promotion with award-winning children's book author Mo Willems.
Educators signed up and offered a lesson on how they might build a story out of Lego bricks. Winners will receive a classroom set of story starter projects, signed books and a two-foot tall Lego replica of Willems' beloved "Pigeon" character.
Prior to working with Act-On, Lego Education was sending about 40 to 50 single campaign emails ad hoc per year. Its marketing lists were less segmented, and the brand was unsure if it was always hitting the proper target audience with its messaging.
"Automation has allowed us to do so much more with fewer resources because it is scalable," says Johnson. "Our campaigns reach hundreds of thousands of educators and we've quadrupled our reach with email."
KEEPING SCORE
Lego Education is now able to identify warm and hot leads via scoring, and it can monitor behavior, such as whether prospects are clicking through to the website, what content they are downloading and whether they are watching videos. Each activity is assigned a number of points—simply opening a message might be worth one point, but attending a workshop might be worth 10.
"We've learned a lot through lead scoring, such as what calls to action work," says Johnson. "At one time, we were offering free posters—we thought that would drive a lot of leads but people weren't interested. It confirmed that teachers are really interested in how products align to curriculum standards. They will engage with that and go further in the funnel."
The buyer's journey varies, she notes, depending on the size of purchase. Someone buying one set for a single classroom has a shorter journey, while a superintendent looking at district-level purchases has a longer decision making process.
Now that Lego Education in the U.S. has fully adopted Act-On's automation processes, its European and German counterparts have begun using it as well. This gives the opportunity for more global content sharing.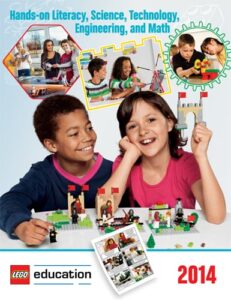 "Full campaigns, email content, voice of the customer pieces, testimonials…we can develop them here in America and then our peers in Germany and Europe can make edits and use the pieces for themselves, rather than having to recreate something from scratch," says Johnson.
Email messages can also help drive teachers to Lego Education's online community, where teachers from around the world can connect and share ideas, questions and lesson plans.
"We monitor for questions we can provide answers for, but for the most part, we stand back and watch," says Johnson, noting that the brand is active on Pinterest, Facebook and Twitter, sharing images and ideas. "Lego bricks excite people—our brand is fun. That opens the door, so it's easy to get them to engage. Sometimes we just need to overcome the hurdle of getting people to think of Lego as an educational tool, rather than just a toy."
Leads are also generated at live events. Lego Education exhibits at about 25 education trade shows each year, and sales reps also attend over 100 smaller local events around the country. The product displays at shows are very hands on. "We challenge people to build a car or vehicle, and then put it on a racetrack to see how far it goes," says Johnson. "We try to make the exhibit engaging, and have both Lego representatives there and educators who are using the product, because educators want to talk to other educators."
Lego Education also partners with schools to host one-day symposiums. These target administrators, but teachers are welcome as well. Keynote speakers are brought in to talk about the brand's products and the education world in general. Attendees can also experience several different Lego Education products in a workshop setting, and ask questions about the suggested curriculum.
EXTRA CREDIT
Johnson notes that the brand still believes print marketing such as catalogs and flyers are relevant to its audience.
"Educators appreciate that hard copy," she says. "They remain a part of our integrated marketing."
But at the same time, Lego Education, like the rest of the world, is moving into digital. "It's finding a balance," Johnson notes, adding that the brand still prints 60,000 to 80,000 copies of its main print catalog annually, and reaches 200,000 educators at back-to-school time with trifold mailers.