Marketers on Fire: Dickies Global CMO Talks Capsule Collection Collab With Jameson Whiskey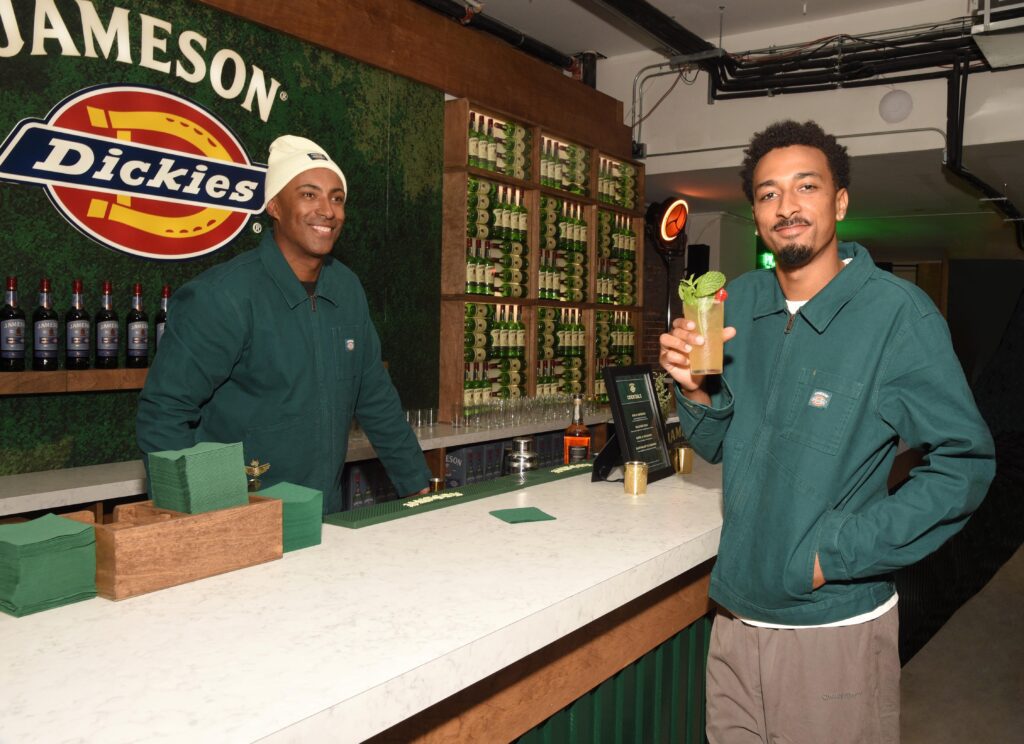 Jameson whiskey and workwear brand Dickies launched a capsule collection last month inspired by the brands' mutual dedication to and celebration of the art of craftsmanship. The gender-fluid, workwear-inspired collection, dubbed "Crafted Together," includes 10 signature pieces—each slightly reimagined—as well as a limited-edition Jameson x Dickies bottle.
Building a successful collab between two brands requires honoring their respective identities while also creating something new. But that can be tricky for companies that rely heavily on their heritage to define them. It's a balancing act to be taken seriously, according to Dickies Global CMO Sarah Crockett.
"We are very focused on honoring our core workwear consumer, and we're not trying to be anything other than ourselves," she told Chief Marketer. "That is the right balance for us to strike, and something that we need to delicately manage. Because leaning too far into the hype or the cool or trends can be the thing that would ultimately destroy us."
We spoke with Crockett about the partnership's strategic marketing goals, how influencers and experiences are supporting the campaign, best practices for brand collabs, and the challenges of managing logistics and production across different businesses. Plus, stay tuned for more marketing insights next week from the spirits side of the collab.
Chief Marketer: How did this collab come about?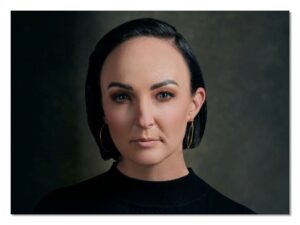 Sarah Crockett, Global CMO at Dickies: For a brand like Dickies, partnerships and collaborations are a great way to continue to interpret the brand. Seeing how other people bring the Dickies brand to life is always of interest to our consumers. We see a positive response when we do these partnerships, and we're pretty selective about which ones, because we want to make sure that it makes sense for the brand.
The thing about Jameson and Dickies that makes so much sense, even though they're very different product categories, is the heritage piece. We are a brand that celebrates and champions makers, and have been for 101 years. And Jameson has put so much into their brand, high-quality productions and craftsmanship across the board since 1780.
CM: What are your marketing goals with the partnership?
SC: This is an opportunity for us to meet new customers through the bottle side of the business and the apparel side of the business. This is in 26 different countries. We want to see this Jameson jacket and the other items in the apparel collection on the backs of people all over the world. In technical terms, you could see this as customer acquisition and product sales. We want to see people talking about the partnership, so there's a level of engagement, whether it's the activations that we're doing in New York and London or the content that we're putting out into the universe through our various marketing channels.
CM: How are the experiential components supporting the launch?
SC: We had a pop-up experience for individuals 21 and older in New York and London, where people experience and shop the collection firsthand. Bringing both brands to life in a physical space is a great way to experience that makers story and that craftsmanship.
Walking through the space, you get exposed to the legacy of both brands. There's been some great social content already publicized at these pop-up locations, with people styling the product in unique ways. There's paying homage to different types of makers from the past and present. There's a level of real-time making happening in this space, screen printing or those types of activities. They're able to walk away with some goods in their hands that they don't necessarily have to pay for. It's about unpacking the story of the two brands coming together.
CM: How are you leveraging influencers to get your message out about the collection?
SC: It's not necessarily about the partners who have the largest followings, per se. They have to be folks that feel right for our brands. We invited them to participate in the space. We had a preview event in advance of the public opening of the pop-up store in New York where we invited them to come in and have a first glimpse of the space and the activation, with product on their backs, capturing content and amplifying that out to their audiences.
We worked with Jameson to bring in Travis Bennett, an actor most recently in the show "Dave." He happens to be a huge fan of both Jameson and Dickies. We do not believe that if you build it, they will come. So it's always important for us to find ways to authentically amplify the partnership so that our consumers hear about it.
CM: Dickies has had some recent experience with brand collaborations. Do you have any best practices to share?
SC: Collaborations have been a robust part of our recent past. If you just look at last year, we've had collaborations with Brain Dead, Gucci and Opening Ceremony. Interpreting our brand through the eyes of other independent makers, as we like to refer to them, which is our target consumer, is a way for us to continuously bring the consumer into the brand.
As far as best practices go, there's some baseline components of how we work together to bring these to life. If it's all about interpreting the brand through the eyes of other individuals, having a baseline product to do that helps shine a light on the unique expression that the partnership brings. A collection of icons we typically like to leverage is the foundation for our collaborations, and that includes the Eisenhower jacket and our bib overalls, which was the first item in our collection 101 years ago.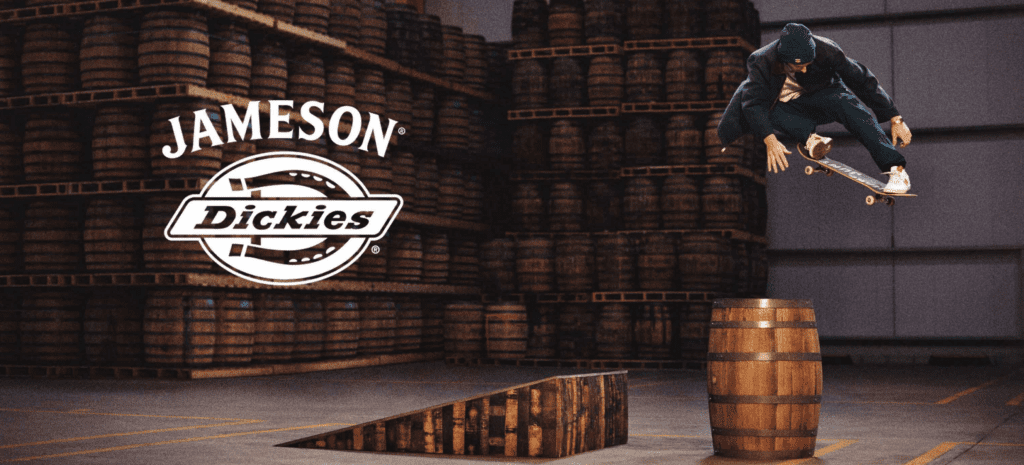 CM: How do you balance celebrating a classic product while also innovating for younger generations?
SC: Honestly, it's why I came to this brand. It's a such a fun and unique challenge. The most important thing that we can do is honor our core consumer. We are a workwear brand. We are here to celebrate the passion, pride and power that comes from people who are not shying away from the hard work. And that is at our core, day in and day out. If we do that well, that's when you start to see the brand be appropriated by a variety of different communities. We are one of the very few brands that is proudly represented in the Walmart business. We're distributed there, and we also collaborate with Supreme, Gucci and some of these other partners that I mentioned.
That is a very unique spectrum. The only reason why we can collaborate with Supreme is because we are focused on honoring our core workwear consumer, and we're not trying to be anything other than ourselves. That is the right balance for us to strike, and something that we need to very delicately manage. Because leaning too far into the hype or the cool or trends can be the thing that would ultimately destroy us.
CM: So the collaborations help you modernize and innovate without changing the product too much.
SC: Exactly. We have talented product teams who constantly look at updated innovations on our classics to make sure that, for the worker, we're continuing to address the needs they have. The original products have such subtle details. The bib overalls, as an example, has a diagonal button hole right at the chest above a pocket. You wonder, what is that for? Well, that was originally put in place because the managers on work sites were carrying pocket watches, so they needed the chain to feed through, and that was a smart way of doing it.
Those unique details have been adapted and updated based on the modern worker. We have our internal teams continuously innovating on our designs, and then we can look outside at partners to interpret the brand uniquely as well, and then that coupled with our consumers and their own interpretation of the brand, the styling and the creative expression that they bring.
CM: What are some of the challenges of pulling off this global launch? How are you localizing it for 26 different countries?
SC: There's a very different production cycle for a bottle of whiskey than there is for a style collection of apparel. The logistics of bringing those two unique businesses together always create a subset of challenges to work through. But we see the value on the other side of that. The beautiful thing about this partnership and the way that it's being distributed across the globe in 26 different markets is that we're showing up in doors that are specific for the UK or for Canada or for the U.S. Using the bottle as an example, it's also about showing up on the shelf of another distribution partner. And that's where the localization really happens. Because you can't capture the entire local nuance at a London and New York activation. That's where we're presenting it on a global stage.
CM: How are you marketing this to younger generations?
SC: From an apparel perspective in the U.S., we're bringing our skate team into the conversation as a way to have a more youth-culture forward, globally-relevant component to the campaign. These are skaters from all over the world. We filmed that at the Dublin location for Jameson, their headquarters, which was a nice way to pay respect to the legacy that that location has brought to this partnership. The inclusion of our athlete team brings Dickies and Jameson to life for a new potential consumer for both of us—Jameson as a 1780s, authentic whiskey brand and the 101 years that we represent as Dickies. We are constantly keeping our eyes out and forward at that next generation, and skateboarding is such an important aspect of youth culture and has so much influence across it, far beyond skaters themselves.