How Flo is Helping Progressive Win the "Insurance Arms Race"
Insurance isn't necessarily a fun product. For most folks, it's a necessary evil. But with the help of a perky pitchwoman named Flo, Progressive has put a bit of joy into the process.
Chief Marketer recently chatted with Jeff Charney, CMO of Progressive, about the evolution of Flo as the company's advertising frontwoman, and the concept of creating "situational content" to connect with consumers.
"Insurance is an arms race and you have to out create in this industry, versus outspend," says Charney, who joined Progressive four years ago after stints as CMO at Aflac and QVC. "That has been my philosophy since day one – especially in this industry, we're finding ways to out create in a big way."
In November, Progressive debuted the 100th commercial featuring the Superstore concept and Flo, portrayed by actress Stephanie Courtney, a member of the improve sketch comedy troupe The Groundlings.
"We were trying to do something different—we didn't want to scare consumers with insurance but rather make it pleasurable," says Charney, adding that the "Superstore" concept was a way to make insurance more tangible by putting the intangible product into boxes on a shelf.
"Flo was envisioned as an angelic creature—shopping for insurance can be heavenly or hellish," he notes. "We wanted to make it heavenly, and make Flo authentic and real—we knew if people saw her the way we saw her, they'd identify with her."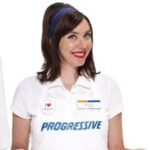 From the start Courtney was encouraged to improvise. She was given scripts for the direction of each spot, but was allowed to add her own spin. Charney describes the improvisational structure as "situation content," and calls the Flo spots as "episodes" in her ongoing journey, with some being more situational and some serving more as character development.
The most successful brands are those who are concept or idea based, rather than those who simply jump from campaign to campaign, he says. Flo has translated from TV commercials to every other medium Progressive communicates in. On Facebook and Twitter, followers respond to Flo's posts as if they are talking to a real person, and not a corporate mascot. Progressive even sells Flo Halloween costumes, bobble heads and other merchandise.
"People relate to Flo," Charney says. "Get the right content in the right context and you'll make a connection—conversion will come. Making ads is what people did 20 years ago. We're crafting network of content."
Progressive still does print and direct mail, as well as print and radio. Everything is measured, he says, from social posts and commercials to everything in-between. "It's all about conversion and ROI at the end of the day."
Not matter what the medium, it pays to be disruptive, Charney stresses. "If you're not pushing content in the right context, you're wasting money today. You can't do things in the same way as before.
Right now, there are no signs of "Flo Fatigue," he says, noting the key is to keep the story arcs fresh. "As long as the character is relevant and authentic, it can go on for a long time. We follow listening metrics and see a lot of different reactions to the commercials. People are engaged and connected."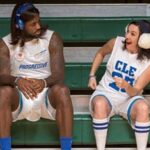 Progressive continues to engage consumes with a new friend for Flo, FloBron, aka LeBron James, who shares the spotlight in a new social media campaign that began last month.