Don't Think Too Literally When Looking for a Name
What's in a name? Turns out, a lot if you're looking to create a memorable brand.
It's hard to know which way to go. Descriptive or vague? Literal or clever? As Anne Quito reports on Quartz at Work, Red Antler strategists Emily Heyward and Jonah Fay-Hurvitz advise against the literal route, because a name that is too on the nose could hamper future business direction changes.
"You really don't know where your business is going to go and you don't want to lock it down too quickly," say Heyward, who has worked with high profile brands such as Birchbox and FourSquare. "Choosing a literal name is actually quite dangerous."
She suggests selecting a moniker that evokes the idea of the product or service, rather than describing it exactly. "It's far more important that the name be a blank canvas that you can build meaning into," Heyward says.
---
More Ideas for Better Branding:
---
Should you add on a tagline to get your brand message across? Fay-Hurvitz says no, Quito reports. That's just repetitive, and feels way too corporate for today's marketing world. While in the past, marketers may have strove for consistency in their messaging, today variety is the spice of life, and you don't have to hammer the same exact spiel in every channel you use to communicate.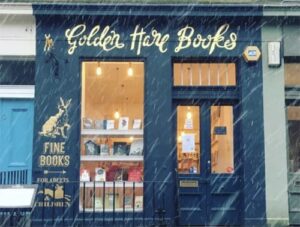 One brand feeling the name game pain is the venerable U.K. book store chain Waterstones. The brand decided to name a new store in the Stockbridge area of Edinburgh, Scotland "Stockbridge Books," to make the shop feel more indie. But, The Bookseller reports, actual independent book shop Golden Hare Books—also based in Stockbridge—called foul, and accused Waterstones chief exec James Daunt of going back on a pledge not to open a store near an independent.
After an outcry on Twitter, Daunt said the naming was a mistake and the shop would indeed be called Waterstones. He also noted that the store was a fair distance from Golden Hare and other local independents, and that his company would not behave in an "predatory" way towards small businesses.
The Bookseller reports that Waterstones began opening unbranded stores named after their locales in 2014. The shops received some bad press last year, but Daunt said at the time he was not put off by the negative attention.