Codes on Cans Drive Pringles New Esports Deal
Pringles continues to expand on its investments with esports.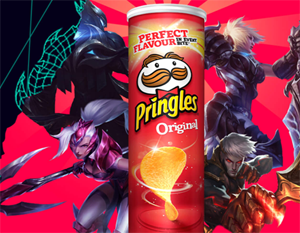 The brand just inked a deal with Riot Games to sponsor the League of Legends European Championship (LEC) Summer Finals. In a supporting promotion, 115 million Pringles cans marketed in stores across Europe will carry a code that lets consumers enter a raffle to win an exclusive Legacy skin.
Two skins will be given away every day until the Finals in Athens on Sept. 8. The skins—used to change the appearance of characters in the game—are considered to be extremely valuable and exclusive as they are retired, seasonal or used only for special events and are otherwise unavailable and stored in Riot's Vault.
Add to that, a Pringles raffle running through Sept. 30 gets two winners an exclusive match day experience at the studio in Berlin, the home of the LEC. The tickets include a backstage tour and a meet and greet with the LEC commentators.
Launched in January, the LEC has scooped up a number of other high-profile sponsors, including Warner Music, Tchibo and Lions Cereal.
---
---
"We've been steadily developing our esports foot print to gain stronger brand recognition with the community," says Dominik Schafhaupt, Kellogg's Marketing Manager Snacks Northern Europe. "We've been present at a series of major tournaments generating content and arranging activations but it's important we keep expanding our outreach and that we're able to speak to esports fans across different titles."
In May, Pringles announced that it would release a series of commercials to air in stadiums during esports events throughout the year.
Pringles began esports partnerships in 2017 with the world's largest esports company ESL, formerly Electronic Sports League, by sponsoring a single event in Germany. In 2018, two more European events were added. This year, it greatly expanded its deal with ESL to sponsor seven events across 13 European countries.
Brands are expected to invest $1.2 billion U.S. dollars in marketing and sponsoring esports related events in 2020, up from $517 million in 2017, according to Statista.