4 Ways to Embrace Mobile Marketing Tech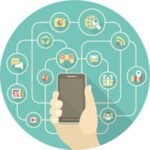 Technological progress has a cavalier way of turning successful business models into punch lines. Just ask Blockbuster, which went from ubiquitous to bankrupt in less than a decade. While brands like Facebook have embraced mobile early and reaped the rewards, consider the taxi industry, which has resisted mobile app innovation and lost a significant market share to Uber.
Executives often fail to provide enough capital for mobile marketing initiatives, not realizing that apps are products. Compartmentalizing apps within projects for a specific quarter leads to underperforming investments, and those executives then have to consider throwing good money after bad. So how can companies avoid this common occurrence?
Let Business Outcomes Drive Your Strategy
Depending on your industry, you might have different business goals you're looking to achieve with your mobile strategy. In CPG, you might be looking to stay top of mind with contextually relevant mobile advertising near the point of purchase. In financial services, you might want to reduce customer churn.
Regardless of your objectives, a common metric for measuring success is the cost per acquisition (CPA) against the customer lifetime value (CLV). As long as your CPA is less than your CLV, you have a solid financial model for investing in mobile.
[(Average purchase amount per transaction x average number of annual purchases x average customer lifespan) x (Profit margin per customer)] x (Retention rate) = Customer lifetime value
Once you have established your CLV, you can determine how much you can afford to invest in acquiring a new customer.
Getting to Market Quickly Without Reinventing the Wheel
Leveraging existing platforms reduces the total cost of ownership and gets mobile experiences to market more quickly. In a digital landscape where web services are abundant, it can be difficult to determine which platforms to select. Here are a few of the best:
Urban Airship: As the largest provider of push notifications for iOS and Android, Urban Airship is a step up from built-in product design kits because it offers a helpful dashboard to compose, preview, schedule, and target messages.
AppsFlyer: This service offers in-depth analytics for multiple mobile marketing campaigns on a real-time dashboard, providing a true sense of attribution and the value of each customer driven across channels — whether those channels are paid, organic, or social.
Applause: This platform provides crowdsourced user testing and quality assurance testing services, allowing companies to reduce the costs associated with having an in-house QA team.
When determining how to implement a platform, it's important to assess the capabilities of your design and development team based on their experience with relevant technologies. Companies don't want to pay their agencies (or even staff) to learn on the job, so having agencies and platforms with experience working together is vital. If they don't, challenges will arise due to integration delays and learning curves. Looking for successful implementations in your partners' portfolios can save a lot of time and headaches.
Determine Your MVP and MMP
In our agency, the MVP has the minimum requirements to get a product to testing or market with a free model. The MMP has the minimum requirements to take it to market with an associated fee. Depending on what you're working on, one or both of these might be key milestones to organize marketing activities around in your road map.
As you release your MVP, it's often helpful to share it with partners or in a closed environment to get valuable feedback. Consider also putting a small advertising budget behind it to test performance. This stage is where services like Applause provide valuable feedback. Once you get to an MMP, it's time to open the floodgates and prove your investment.
Mobile Apps Should Be Treated as Products Rather Than Projects
Treating an app-building endeavor like a project rather than a product is a mistake — projects are just temporary endeavors with the ultimate goal of creating a product. The bottom line is that apps are products, and if you approach them incorrectly, you'll risk neglecting the big picture.
A native mobile app is a product that, like all products, will evolve over time as you glean more data about user behaviors. Using the right tools will allow you to make informed decisions about new features and opportunities for your mobile road map — and avoid becoming a punch line.
Kevin Rice is the chief sales and marketing officer of Hathway.