The 10 Most-Read Chief Marketer Stories of 2020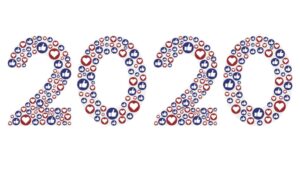 With 2020 at last in the rearview mirror, let's take a look at the most-read CM stories of the year. Following are the articles that captured the most eyeballs in a profoundly newsworthy year, from the recently-published CM200 to promotional marketing ideas for the social distancing era to trends in martech innovation.
1. Cause Marketing in the Time of COVID-19
This piece provides scores of examples of how brands responded proactively to COVID-19 even while experiencing massive disruption to their businesses. Actions included converting facilities to factories to make personal protective equipment for healthcare workers, donating to charities like No Kid Hungry and offering services to consumers for free.
2. The CM200
Published in December, this annual list highlights the top brand engagement and activation agencies in the U.S. across 11 categories and specialties—from B2C experiential to martech to B2B demand generation.
3. How B2B Marketers Are Adjusting Budgets During COVID-19
The pandemic forced businesses to adapt in myriad ways—and budget allocation was a major one. B2B marketers typically rely on trade shows, conferences and in-person meetings to generate leads and engage with customers. With that no longer possible, marketing dollars went toward other budget categories—mainly content creation, online events and search marketing.
4. 10 Promotional Marketing Ideas for the Social Distancing Era
Marketers who planned to interact with audiences at large events, pop-ups, conferences and other in-person activations this year had to rethink their engagement strategies. This article looks at steal-worthy promotional marketing ideas from live-plus-digital campaigns that also work within the social distancing era.
5. Adobe Summit: Six Digital Marketing Trends Impacting Business in 2020
This piece looks at digital marketing trends impacting businesses in 2020. Topping the list is one that remains relevant today: the ability for businesses to maintain brand purpose and build resilience during turbulent times.
6. Martech Innovation: Gartner's Hype Cycle for Digital Marketing 2020 Report
The technologies that will help marketers remain resilient in fluctuating business environments include customer data ethics, real-time marketing, artificial intelligence, personalization engines and location intelligence, according to Gartner's latest Hype Cycle. And vice president analyst Mike McGuire delves into these innovations further in a Q&A.
7. The Significance of Brand Marketers' Response During COVID-19 Crisis
Brands' responses to crises matters to consumers. But it's critical for companies to strike the right tone in their advertising and marketing communications. This article looks at how brand messaging evolved during the pandemic.
8. INFOGRAPHIC: Five Insights From the 2020 Chief Marketer B2B Marketing Outlook
According to our annual survey, B2B marketers use email, search and content marketing to find leads with the highest ROI. This infographic looks at the challenges to generate those leads, techniques for nurturing them, the most effective channels and more.
9. Chief Marketer's 2020 COVID-19 Marketing Outlook Report
To better quantify the impact of the pandemic on the industry, Chief Marketer surveyed readers to answer some of the questions marketers had on their minds, regarding new engagement strategies in the absence of live events, budget reallocation, shifting content strategies and more.
10. Marketing Strategies From NFL's SVP of Social and Influence Marketing
This piece looks at the NFL's new influencer marketing and social media strategy, which takes a macro/micro influencer approach and focuses on delivering diversified content in real-time. Though published just before COVID-19 caused nationwide lockdowns, the insights remain relevant in a time when social media has surfaced as one of the most important channels for brand communications.