You Be the Stylist: Hilfiger's Instagram Stories Say
Tommy Hilfiger has partnered with Upfold to put a twist on Instagram Stories.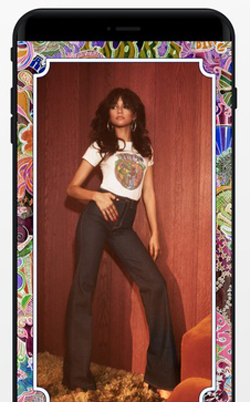 The partnership comes as Hilfiger launches a new collection with actress Zendaya, which was unveiled over the weekend at Paris Fashion Week. Upfold creates templates for Stories and has developed 15 Tommy-branded templates that include prints and logos of the TommyXZendaya label and took over the brand's Instagram Stories coverage during the weekend.
Unfold's 16 million users are encouraged to use its app, select the templates and then overlay their own imagery and copy on them.
Designs include variations of the Tommy Hilfiger logo, as well as colorful prints exclusive to the TommyXZendaya collection, Thecurrentdaily.com reported.
Earlier this month, Zendaya, 22, became Lancome's newest global ambassador, three years after become the face of CoverGirl.
Hilfiger's Fashion Week presentations have been a way for the brand to test new technologies and engage its social audiences.
Earlier this year for the Milan show, QR codes on the collection were used to unlock content about the collection and the manufacturing of a Mercedes racing car. Last year, a podcast featured Avery Baker, who had recently left his post as chief brand officer at Hilfiger, thecurrentdaily.com said.
---
You May Also Enjoy:
---
Last year, Instagram's worldwide monthly user base increased nearly 20 percent, to 713.9 million users and is expected to reach 989.1 million by 2022, according to eMarketer.
The use of Stories by marketers is projected to explode. According to Facebook, there are 400 million daily active users on Instagram Stories.
IMAX is one brand that found, after diligent testing and learning, that it was Instagram—in particular, Instagram stories—that would become a major spoke in its marketing wheel.
IMAX revamped its strategy from having a single beautiful image that promoted a single film title on its feed to emphasizing a more narrative approach through Stories. Content pivoted from conversations solely about titles to in-depth conversations that included more brand-related content about what made IMAX different and special in the market. The conversations swirled around IMAX's approach toward filmmakers and its cameras and it began to leverage more insights with polls, sliders and question cards.
"If the only way to experience IMAX is to be in that incredible space, then the question for us is how can Instagram stories allow us to get closer to customers and more importantly have a more regular dialog with people who are huge fans of the brand," says IMAX CMO Denny Tu. IMAX is one of six brands recently profiled as Chief Marketer's 2019 Digital All-Stars.