What Marketers Need to Know About Information Technology Decision-Makers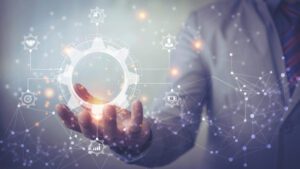 Of the 660 million users on LinkedIn, 7 million are information technology (IT) decision-makers who play a key role in high-dollar software and hardware purchases. In case you didn't know, IT is a $4 trillion global market. That's right: trillion.
That's a number worth considering especially if you are working in sales for SaaS players like Microsoft, Google, Oracle, Amazon Web Services or SAP—or any number of promising startups out there. Based on LinkedIn's Content Insights Quarterly report from the 2019 third quarter, here's what you need to know if you're looking to get the attention of IT decision-makers (ITDMs).
10 Topics Engaging IT Decision-Makers
Who are ITDMs and what are they interested in? They are in management and senior-level positions, so staying up-to-date on the latest in their industry remains critical. ITDMs are engaging with content that's both directly and broadly related to their role.
The top 10 topics are:
Internet Security

Acunetix

Display Technology

Payment Industry

Text Mining

HDMI

Web Application Security

Juniper Networks Products

Github

Vulnerability Scanning
Lessons for Marketers
Note that security accounts for four of the top 10 topics, including No. 1. Fighting off cyber hackers is a global war, and ITDMs are on the front lines. For marketers, creating content that helps this group grapple with security can be a winning strategy.
These shown interests also represent an opportunity for marketers to deliver messaging that's in the right context. The data tools exist to approach software and hardware buyers when they are in shopping mode, and those tools can fuel better marketing and advertising. No matter which digital platform you use, targeting ITDMs based on what they are reading can be a powerful strategy.
Top Articles Engaging ITDMs 
Like other professionals, ITDMs think about their ongoing professional development. The top article for ITDMs in the third quarter of 2019 is about pitfalls for engineering leaders to avoid (something they are clearly keen to do).
They are also staying up-to-date on industry trends, recent third-party research, and industry news (such as who is getting hired into top positions). It's good to know that devops, shipping software across time zones, and cybersecurity are on this demographic's mind.
Here are the top posts:
---
Other articles you might enjoy:
---
Lessons for Marketers
Having access to technology is taken for granted, and, when technology breaks down, ITDMs often take the brunt of these complaints. Marketers should keep this ITDM reality at the forefront when they communicate with them. The articles above showcase opportunities for marketers to understand the concerns of ITDMs and then deliver a message of value to them.
Finding the Right Message
With 7 million ITDMs using social media regularly and influencing purchases in a $4 trillion global market, one can see the potential in using intelligence to reach this demographic and drive sales.
ITDMs are staying up-to-date on industry trends like cybersecurity, payments systems and DevOps pitfalls. It's up to marketers and sales pros to meet them where their concerns begin so everyone ends up with the successful result—technology that works.
Jennifer Brett leads North American Insights for LinkedIn Marketing Solutions.