Visible Connects Generations of Pride in 1970s-Themed Game Show 'No Straight Answers'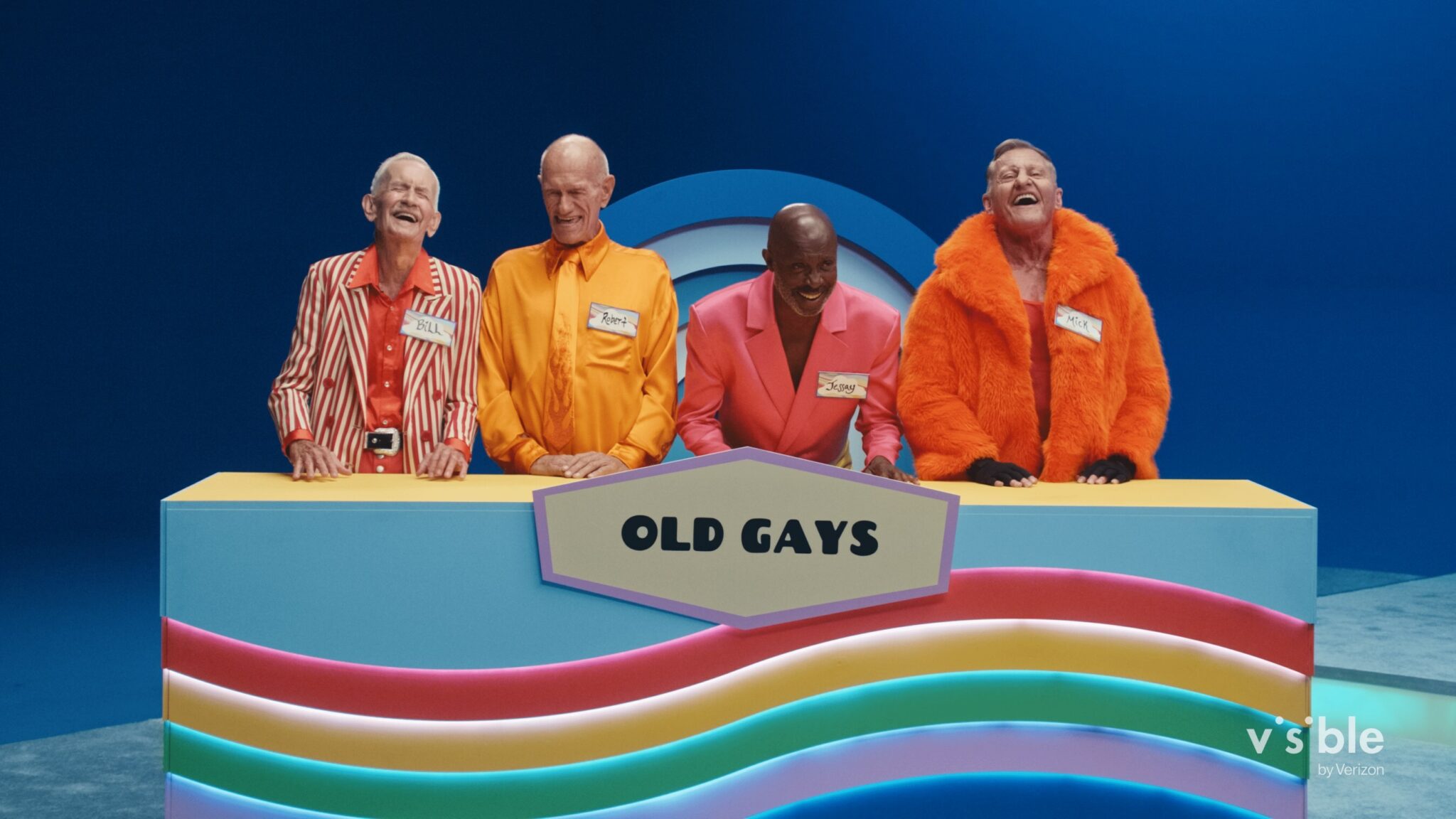 Digital wireless company Visible is known for its tongue-in-cheek marketing campaigns. Take its billboard ad featuring an intentional spelling mistake, which went viral during its first year of business. Or its "Unlimited Eyebrowsing" campaign, starring the brow-prominent "Schitt's Creek" actor Dan Levy, which included a website that consumers could browse using their actual eyebrows.
This month, to celebrate Pride month and support the LGBTQ+ community, Visible created a 1970s-themed game show dubbed "No Straight Answers," in which LGBTQ+ elders ("The Old Gays") and Gen Z contestants ("The Young Slays") are quizzed on the latest slang, the history of Pride and more.
The campaign's purpose is to foster connections between younger and elder LGBTQ+ folks—a group that is often overlooked—while honoring the decade in which Pride celebrations began, according to Cheryl Gresham, CMO of Verizon Value, a portfolio of brands that includes Visible.
"Our job is to connect people. So it started with this idea of helping communities that were struggling with human connection, and having Visible help bring them together with other people," she said. We spoke with Gresham about the inspiration behind the campaign, how it's expanding reach behind its typical target market, its partnership with SAGE—an advocacy group for LGBTQ+ elders—and the challenges of marketing an all-digital brand.
Chief Marketer: How did you land on the idea of connecting older LGBTQ+ folks with younger generations?
Cheryl Gresham, CMO of Verizon Value: Visible is a wireless company at its core. Our job is to connect people and create those human connections. When we think about our CSR work and groups that we want to partner with, we use that as a filter for us to identify groups, organizations and programs that we want to lean into and add value to that group or organization to bring people together. That's how we identified SAGE.
There's often a disconnect between them and younger people, and the younger LGBTQ+ community as well. When we identified that as the insight, we started thinking about how we could create some content that could be helpful, make people smile, connect and spur conversation. So we worked with SAGE and our agency Madwell on this idea of a '70s- style game show. You may recognize some Family Feud vibes in there. We thought it could be fun to have this comparison of experiences, language and knowledge between elder LGBTQ+ and younger [folks].
CM: How did you chose the contestants?
CG: We identified this group of gentlemen called "The Old Gays." What's fun about it is that my aunts know who they are and my 13-year-old kids know who they are. Then we wanted to make sure we reached out to the younger folks as well, and to have that be a family. It started with this idea of connection and helping communities that were struggling with human connection and having Visible help bring them together with other people.
CM: What's the target market with this?
CG: Our bullseye target for brand design started out millennial, and I'd say we're Gen Z now. We're even starting to talk about Gen Alpha, because they'll be in the adult phase before we know it. However, we actually have quite a few Gen X and above customers. [You might think] because we're a digital brand, maybe we're not as connected with a variety of generations, but we've found the actual usage is much broader than what the design target is. Our intention was more about bringing communities and people together and celebrating that. Obviously we want our target to find it entertaining, but I think in this case, good content is good content no matter what age you are.
CM: Visible has supported the LGBTQ+ community with Pride campaigns in the past, so I'm guessing that despite the backlash some brands are receiving for their Pride campaigns, Visible supporting the community is a no-brainer.
CG: What I love about Visible and what we've done historically, is that we have been a consistent ally with the community. We've showed up in Pride and outside of Pride. We've centered our whole brand around this idea of a diverse and wide roster of people, no matter who they are. That is just part of who we are. We definitely knew we wanted to spend our marketing dollars there, support the communities and bringing them together. It was something that we stayed laser-focused on: that we were going to be consistent here.
CM: What else does Visible have coming up, Pride-focused or otherwise?
CG: In addition to the content that we made with these creators and influencers, we were also a part of the D.C. Pride Parade, and we have the New York Pride Parade coming up, too. And then in terms of any fun content coming out, we just launched some new—what we call—"blue world creative" content. It's more product- and brand-focused and it's showing up a little bit differently by explaining what Visible's all about.
One of the things we talk about often is that without stores and without 1-800-numbers, when I explain to people what Visible is, someone will say to me, "well, how do I do it then?" For some, it's such a different concept that you wouldn't just go down to your store next to the pizza shop and get your phone serviced. But I think this work does a nice job of explaining what the value of Visible is and how to do it.