Videos Boost Engagement and Conversion for eBags
Videos integrated throughout the path-to-purchase are increasing conversions for online bag and accessory site eBags.com.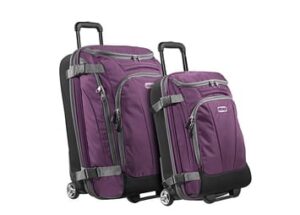 The gains are particularly dramatic for the site's eBags private label brand, says Peter Cobb, cofounder and executive vice president of eBags. Videos for the private label products have been played over one million times since Sept. 2012, and achieve 21% higher conversion rates and 5% higher dollar-per-play than non-private label brand videos, making eBags.com's house brand the best selling brand on the site.
eBags has been working with Liveclicker VideoCommerce on its web video initiatives since March 2008, and saw the value early on, with double-digit conversion increases in the first full year of using the platform.
Cobb, who was previously with Samsonite, said eBags was created essentially as a drop-shipping site. Brands would send samples of products in their warehouse to eBags, which would then photograph the product at various angles. Orders are shipped directly from the manufacturer.
The site stocks 55,000 different bags from 550 brands. In addition to the photos, ratings and reviews were incorporated early on. Over 21.5 million bags have been sold, and there are 2.9 million reviews on the site. "We believe we have lower return rates because there are fewer surprises for customers," says Cobb
Early on, eBags knew they wanted to take their site to the next level, and started integrating video. The site created the eBags house brand to help differentiate itself, and the brand currently accounts for 24% of unit sales and 17% of dollar sales. Bernard Majeau, director of product development for the brand, is featured in many of the videos, where he walks viewers through the design of the bag and things like luggage height, positioning of the handles and other features.
Because he is so passionate about the brand, which is very travel oriented, Bernard's videos often end up running longer than what experts suggest viewers will watch.
For example, the video "Tools for the Art of Packing," which provides organization trips for travel and is relevant to a wide audience, is naturally at the top of the sales funnel. It has been viewed by over 500,000 people, and has been shared over 1,000 times. Even though its longer than most such videos at three minutes, 30% of viewers are still watching more than halfway through.
"For those who are interested, the videos go a long way," Cobb says. "They may even be better than an in-store experience."
The private label videos go a long way towards swaying consumer interest. "If you read the testimonials, one out of three people say they watched the video and it sold them on the product," he notes, adding that every time a customer testimonial includes a thumbs down, it is forwarded for review so the team can review it and see what could be done better next time.
The ROI of the videos is judged on several fronts, including clicks and the revenue generated by those viewers, as well as number of dollars generated per play.
"There's no question that when somebody looks at a video, there's better conversion and better average order," says Cobb. "It gets them further into the funnel."
About two weeks after a purchase, customers receive an email follow-up. Since reviews likely helped influenced the customer's purchase decision, eBags asks them to offer their own review to help future buyers.
"We've had debates with brands that didn't want to see negative comments but we leave those up," says Cobb. "If there's an issue with a product that's a return waiting to happen and we want customers to know if there's a potential issue. For example, is the cell phone pocket too small? Manufacturers end up loving it—after all, if they sell 1,000 bags to Macy's, they never get this kind of feedback."