Vidalia Fights Competition with New Five-Year Plan
In April, Vidalia onions begin appearing in grocery stores making their long awaited annual appearance for many consumers to slice and dice into salsas and salads or beside a steak on the grill. The Vidalia season is short lived and so too is the marketing season to let consumers know the sweet onions have once again arrived.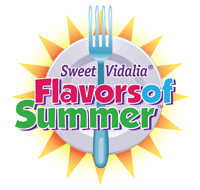 This year, the Vidalia Onion Committee—responsible for the marketing—is about to embark on a new three-to-five year program called the "Vidalia Flavors of Summer." The messaging homes in on two goals: to fend off the increasing number of look-alikes and ambushers by reinforcing the fact that there is only one true Sweet Vidalia Onion variety and to let consumers know that Vidalias are back on stores shelves with their unique sweetness.
The Marketing Plan
The program, turns on a promotion that runs April 15 through Aug. 31 and includes a specialized website, retail events, on-pack promotions, a national contest and the debut of six new sponsors. The theme is all about summer parties, eating, entertaining and grilling—and the get your Vidalias now before the harvest ends in late summer.
"The crux of the program hinges on giving consumers the tools and tips whereby they can enjoy outdoor eating and entertaining even more than they already do," Wendy Brannen, executive director of the Vidalia Onion Committee, said.
Six new co-sponsors have been added to the mix that add to the summer foodie theme—Johnsonville Italian Sausage; the National Mango Board: Avocados from Mexico: Stemilt Cherries; National Watermelon Promotion Board and Gourmet Garden.
"By bringing in partners we could increase the budget [in the $400,000 to $500,000 range] to make larger programs," Brannen said. "We're investing together to have a bigger end result."
The Activation
The website, which goes live April 15 at Flavors-of-summer.com, will be a resource offering recipes, entertaining how-tos and tips and digital coupons from Vidalia and the other sponsors. Vidalia discovered great success with digital coupons last year when it offered a coupon on Facebook that delivered almost 50,000 downloads and a striking 26% redemption rate. For the first time, the website has been optimized for mobile.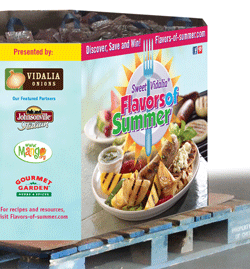 In stores, colorful P-O-P materials will summon thoughts of summer days through produce isle displays, cross merchandising with the six sponsors, box toppers, horizontal displays on bulk Vidalia bins, price cards, shelf tags and posters stands and danglers. On packages—3 million bags will be shipped out to retailers—shoppers will find grilling and other outdoor-based recipes and QR codes they can scan to get contest details.
The recipe contest will open to families, foodies and grill masters who can upload recipes that include Vidalia Onions and/or sponsor products and photos in four categories: grilling favorites; summer salads sides and desserts; marinade rubs and sauces and summer tablescapes. The winner receives $1,000 and the top five entrants in each category will be eligible to win the grand prize, an outdoor entertainment package valued between $5,000 and $7,000.
The cookbook author and entertaining expert, Rebecca Lang, out with a new cookbook "Around the Southern Table," will kick off "Vidalia Flavors of Summer" with product demos at retail chains in four markets She will also hold Facebook and twitter parties providing tips and information about the contest.
Rounding out support for the promotional period will be full-page print ads in "Taste of the South," "Tailgater" and "The Local Palate," a Family Features editorial page, public relations, social media messaging, Pinterest promotions and blogger outreach.
Squashing the Look Alikes
Sales of consumer packages of the onions have increased over the last three years with bulk onions still the top seller. But with that success has come some challenges. There are more onion varieties out in the marketplace claiming to be sweet like a Vidalia, or even that the onions are Vidalias, which causes consumer confusion and hurts the brand.
"I think of Vidalias in a way like Kleenex," Brannen said. "Not all tissues are Kleenex, but many consumers refer to tissues as Kleenex. A lot of times its just about educating our retail partners and consumers about the seasonality of our product."
Some new stats from the Home Patio and Barbeque Association added to the idea that the "Vidalia Flavors of Summer" theme was on target. Outdoor kitchens were named one of the top food trends in 2012 by The Food Network; 82% of U.S. households own a grill or smoker; 97% of grill owners used the grill in past year and more than 14 million new grills were shipped in 2011.
Vidalia's selling success over the last three years has had help from some star power. For the past two years it partnered with Universal Group Nashville for a country music promotion. In 2010, it worked with Dream Works Animation for the "Shrek Forever After, Vidalia's Forever Sweet" promotion that landed the Vidalia Onion Committee and its agency a number of marketing awards, including a 2011 PRO Award in the Best Sponsorship or Tie-in Campaign category. (The 2013 PRO Award Call for Entries Opens March 18). But this year, it is going back to its roots, focusing on food.
"We've had great splashy campaigns and garnered some consumer awareness," Brannen said. "But now we're taking a turn to put the focus back on the product itself and work on clarifying some of the messaging, such as the seasonality and that we are a unique product that can only be grown in a small region of the country."