Twilio Survey: Top Consumer Pain Points When Dealing With Customer Support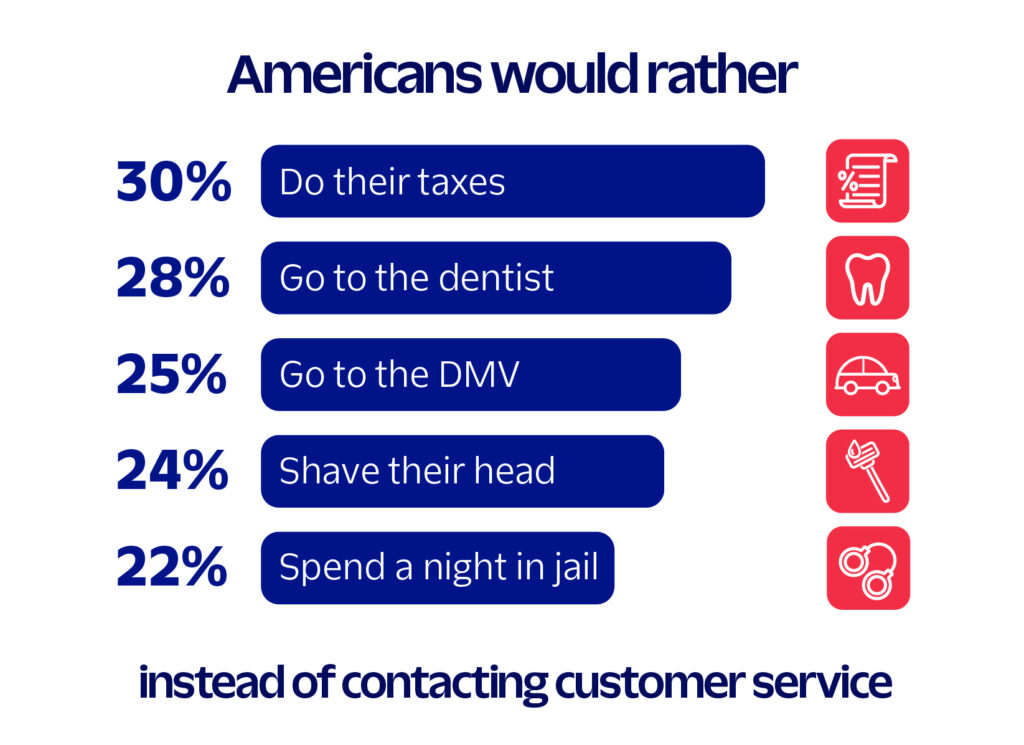 When 22 percent of consumers would rather spend a night in jail than deal with customer service, according to a recent Twilio survey, you know there's a problem.
Slight hyperbole? Most likely. But it's a fair point. Frustration with customer service is a real thing, and it can make or break a business—particularly when customer feedback is as ubiquitous as it is today.
According to the same survey, 62 percent of people said they would stop buying from a company after having a bad customer support experience. And 80 percent of respondents were more likely to be loyal to a brand if their experience was positive.
The survey, which polled 2,000 Americans, also revealed that customers spend 42 minutes on hold each time they contact customer service, which they do on average three times per issue. But a resolution is reached only 46 percent of the time. Moreover, 65 percent said it wasn't worth it to get the issue resolved given the time and effort that is required.
Back to unpleasant alternatives to customer support interactions… Nearly a quarter of respondents would prefer to shave their heads rather than speaking with customer service; 30 percent would prefer doing their taxes; 28 percent would rather visit the dentist; and 25 percent would choose the DMV over the interaction.
Purchasing Habits
Not surprisingly, these issues affect buyers' purchasing habits, decisions and outcomes. A total of 66 percent delay reaching out, for an average of 16 days, and as a result may get stuck in unwanted contracts (46 percent), miss the return window for a product (44 percent) or lose money on a service (41 percent).
Pain Points
When considering major pain points to the customer support experience, respondents said the most bothersome aspects are having to repeat the details of an issue to a new representative after being disconnected or transferred (45 percent), needing to contact a company multiple times to resolve an issue (42 percent) and having just one channel, such as email or phone, with which to reach out to the company (40 percent).
Potential Solutions
So how can marketers proactively approach the negative perception surrounding the customer support experience? Survey respondents revealed several ways that companies can alleviate these frustrations, first and foremost by ensuring that representatives have access to relevant information about their issue so that they don't have to repeat themselves (54 percent). A close second was being able to resolve the issue without requiring a phone conversation with a live person, but rather through text, live chat or another online channel, coming in at 52 percent.
Other solutions include enabling multiple ways to contact customer support (51 percent); having access to clear directions on connecting to a live person quickly (47 percent); and being able to resolve the issue online (39 percent).
Featured image courtesy of Twilio