Topic |

Event Sponsorships
Aon CMO Andy Weitz discusses how a first-year golf tour sponsorship helped spread the message of equal pay for women.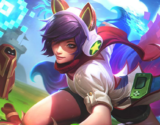 The move will demonstrate the monetary value of exposure provided to brands with its League of Legends events.
CHIEF MARKETER 200

Click here to sign up for more information on the 2022 CM200 call for entries and to view the CM 200 2021 List.