Riot Games Signs Nielsen Deal to Measure the Value of its Sponsorships
Riot Games, the publisher, developer and esports tournament organizer for League of Legends, has signed a deal with Nielsen to measure the value of its sponsorships across the company's multiple esports leagues and competitions around the world. Over the past year, League of Legends Esports has signed on multiple partners including Mastercard, Dell/Alienware, State Farm and Nike.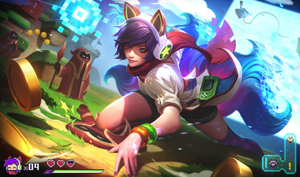 The move will help Riot Games, a member of the Nielsen Esports Advisory Board, demonstrate the monetary value of exposure provided to brands currently activating or considering partnering with its League of Legends events.
"Trust and transparency are vital components of building and maintaining relationships with brand partners," says Doug Watson, head of esports insights at Riot Games. "As major companies invest in our tournaments, we want to help them see the value of their exposure and identify how best to engage with our passionate fan base."
As part of the agreement, Riot Games will provide access to its aggregated streaming viewership data to support Nielsen's independent brand exposure measurement. This includes the new Pro View experience that offers fans the ability to follow individual players during League of Legends competitions. Metrics will be incorporated into the Nielsen Esport24 syndicated sponsorship valuation product.
League of Legends Esports is a global sport that attracts the attention of millions of fans around the world through 13 regional leagues which consist of over 800 professional players and 100 professional teams. Each regional league comprises approximately 10 teams that compete year-round against one another over the course of two seasonal splits. The sport is globally integrated through three international events: the World Championship, the Mid-Season Invitational and the All-Star Event.
Nielsen will measure brand exposure throughout 2019 and 2020 including the North America League of Legends Championship Series, League of Legends European Championship, the League of Legends three international events, and select regional leagues in Asia.
The esports audience is highly attractive to marketers seeking to reach young, largely male consumers, although female viewers and players are on the rise. In 2018, the number of frequent esports viewers and enthusiasts amounted to 173 million, a number projected to reach 201 million in 2019. The player base is also huge. League of Legends was a leader based on number of esports players. In the "presented period" the game had a player base of 100 million, while World of Tanks ranked fifth with 12.3 million players in the measured period, Statista reported.
---
---
In April, Nielsen released an Esports Playbook for Brands to help sponsors and partners navigate the esports ecosystem that includes a snapshot of the industry and an informed view on how brands are successfully interacting with various rights holders and fans.
Some key data points in the playbook include:
● 61 percent of sponsorship value is driven by gaming related brand categories (computers, gaming chairs, peripherals, etc.) in 2018
● 39 percent share of voice by non-gaming related sponsors in esports in 2018
● 60 percent of esports fans globally engage with gaming personalities on a weekly basis
● 90 percent of U.S. esports fans on Twitch can name at least one non-gaming related sponsor in esports.
● 70 percent of U.S. esports fans on Twitch spend more time interacting with esports versus traditional sports
● 664+ million total hours viewed of the top 10 streamers on Twitch from March 2018 – February 2019, according to SuperData Arena.