Susan G. Komen Ignites Campaign Around Reality of Breast Cancer Deaths
Susan G. Komen stages some of the most successful events around to draw support and awareness to breast cancer. The "Race for the Cure" education and fundraising series, along with other walks and races, draw more than one million supporters every year.
But in a subtle way, those events, which celebrate survivors, are joyful and positive—helping fuel the belief by many women that breast cancer is now curable, research the foundation conducted discovered.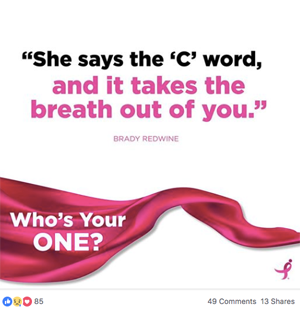 "There seems to be a prevailing belief that no one really dies from breast cancer anymore. That is not true. More than 42,000 women die each year so, the fight rages on," says Linda Fisk, svp marketing at Susan G. Komen.
To bring that staggering statistic back to the forefront of the fight, the foundation launched a yearlong campaign to remind people that there is still plenty of work to be done.
The core message of the campaign represents a significant evolution in Komen's traditional messaging. A bold and resolute tone will now carry through a story arc that focuses on the sobering realities of the disease and its impact on, not only those afflicted with the disease, but their often vast support networks.
"The first part of the new brand story began to shift the tone of the conversation to a much more active approach," she says. "This is about putting a stake in the ground and raising awareness that breast cancer is still a deadly disease and our goal to reduce deaths by 50 percent by 2026."
During Breast Cancer Awareness Month last October, a new tagline—"Where the end of breast cancer begins"— debuted with the new campaign "Unacceptable," to reignite the urgency behind breast cancer awareness. A call for donations went out through 60-, 30- and 15-second PSAs on TV and radio, print, OOH and crowd-funding. A social media campaign shared the message to "clap back" to generate engagement and people did—submitting videos and photos clapping back at breast cancer.
---
You May Also Enjoy:
---
This month, the second phase of the campaign—dubbed "Who's your one?"—began. The brand narrative pinpoints the startling statistic that one in eight women will be diagnosed with breast cancer at some point in her lifetime. The storyline plays out in videos featuring eight women who have been affected by breast cancer.
"This wasn't Susan G. Komen talking about how important we are, it was people telling their stories about breast cancer, shinning the spotlight and reiterating how significant this health crisis is. That's a much more relatable storyline," Fisk says.
TV spots, OOH, print, radio and 30 social media videos carry the message. Materials were also shared with 60 affiliates to use in local markets.
"It's the videos that we're finding are the most compelling," she says.
As the second quarter gets underway, the storyline will move beyond survivors to a focus on the work Susan G. Komen is doing every day through interviews with researchers, clinicians and those people "on the front lines fighting every day to save lives, with Komen support and funding," she says.
Then, later this year, another phase will showcase how Komen is supporting the breast cancer community through compassionate and quality patient care through interviews with community health workers and advocates.
"What ties all of these chapters together is using an active voice to tell authentic stories and our impactful work," Fisk says. "Talking about our audience to reignite and motivate them to take action."