StubHub Converts Quick Sales to Long-term Loyalty
In a world where brand loyalty can be elusive, more and more brands that don't traditionally operate loyalty programs—or have never offered one—have come to realize that, now more than ever, a strong loyalty marketing plan is paramount.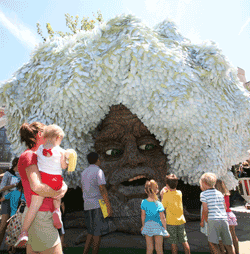 The latest is StubHub, the world's largest online ticket marketplace. It has debuted Fan Rewards, a comprehensive free loyalty program that goes beyond the typical points program to include unique experiences like suite nights, seat upgrades, parties and meet and greets. StubHub said its program is the first of its kind in the ticketing industry.
"We have high brand awareness, and high brand affinity, however, we want to have a long relationship with our customers, so we are working towards high engagement," Ray Elias, chief marketing officer of StubHub, said. "The best StubHub experience is quick and easy. That doesn't give us much opportunity to engage with most of our customers. We believe there is a massive opportunity to provide a great experience around live events beyond just providing the best access."
The program features two aptly designated levels: Star and Superstar. All new members are automatically enrolled into the Star level, where they earn 2% in rewards for each purchase. Once members reach $10 in rewards, they become eligible for a $10 FanCode to use on any StubHub.com purchase. Those who make 10 purchases or spend $2,000 on the site in a calendar year become Superstars. At this level, members earn 3% in rewards on all purchases and become eligible for complimentary seat upgrades and priority invitations to StubHub loyalty events.
"Most great marketers realize that in the digital age, customers are overwhelmed with choice," Elias said. "The best brands want to be top of mind. Today that means being associated with innovation, and service. It's too easy for customers to shop and switch to a competitor otherwise."
Since its founding in 2000, StubHub's now millions of customers have bought and sold tickets to tens of thousands of sports, concert, theater and other live entertainment events.
Customers often play a role in a company's decision to offer a loyalty rewards program or to enhance benefits, as customers did in this case. Feedback from StubHub's most frequent users led to Fan Rewards.
"We did a lot of quantitative and qualitative research over the last two years," Elias said. "Our customers were saying two things. They wanted to be rewarded for repeat purchases, and they would give us more share of wallet if we had a program like this. Our research also told us that our customers valued financial incentives, special access and upgrades."
To announce the program with a splash, StubHub and Ticket Oak, the animatronic star of its TV spots and advertisements, appeared at The Grove in Los Angeles, the popular outdoor shopping mall and site of the filming of "Extra," NBC's evening entertainment program. People stopped to pose for photos with the 25-foot tall talking tree, which gave away thousands of tickets and prizes to fans that signed up for StubHub Fan Rewards. This was Ticket Oak's first live appearance, which also supported StubHub's newest commercial, "Late Night Ticket Oak."
At The Grove, there was also a way for visitors to support Inner-City Arts, an LA-based organization that provides arts education to students. For each child that colored mini Ticket Oak leaves during the event, StubHub donated $5 to the charity. The loyalty program is also being promoted through traditional offline and digital and mobile channels. Since the program launched a few weeks ago "tens of thousands" of customers have joined.
"As the program evolves based on feedback from our customers, we intend to bring unprecedented benefits to fans," Elias said. "We believe fans should have choice in where they buy their tickets, and we want to continue to earn their loyalty."
In the past, StubHub's efforts to encourage loyalty played on its commitment to customer service and the overall customer experience.
"StubHub invented the user experience that is dominant in ticketing today, including dynamic seat maps, inventory transparency and a best-in-class guarantee that goes beyond ensuring buyers are getting authentic tickets from our sellers, we also guarantee satisfaction," he said. "That being said, we know buyers have many options, and our loyalty program is designed to give buyers another reason to choose StubHub first."