Smart Johnny Walker Bottle "Talks" to Us
The role of the bottle in the consumer experience has gotten a lot smarter.
Diageo and Thin Film Electronics ASA, a developer of printed electronics and smart systems, have partnered to develop a prototype of a Johnnie Walker Blue Label "smart bottle." For the alcohol marketer, it's a dream about to come true. With just the wave of a smartphone—no specific barcode to look for and scan—near the packaging on the bottle Diageo can send personalized communications to consumers who read the tags with their smartphones.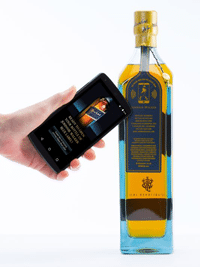 The prototype is being unveiled at the Mobile World Congress, which begins today in Barcelona.
It works as printed sensor tags using ThinFilm's technology can detect both the sealed and opened state of each bottle allowing marketers to send various messages during purchase consideration, and, even once the bottle is purchased and brought home. So for example, if the bottle is open, Diageo can message drink recipes and other ideas for use. If the bottle is closed, the brand can offer coupons or other marketing communications to spark a purchase.
"We constantly experiment with the latest cutting edge technologies to enrich and enhance the experiences delivered by our iconic brands," Helen Michels, global innovation director, futures team at Diageo said when the prototype was unveiled. "Our collaboration with Thinkfilm allows us to explore all the amazing new possibilities enabled by smart-bottles for consumers, retailers and our own business, and it sets the bar for technology innovation in the drinks industry."
The brand established Diageo Technology Ventures last September to research and design just such marketing technologies as the Johnny Walker Blue Label smart bottle. The Ventures program, as described by Diageo, is specifically designed to solve some of the company's existing business challenges and unlock new opportunities for future growth by working with emerging technology companies.
"The working prototype bottle illustrates the new possibilities Diageo's packaging enables for customers and retailers including advancements in sensors, electronic printing, materials sciences and mobile technologies" Diageo said.
No plans yet for consumers to see the bottles on shelf.