RPI Versus RFM: Real-Time Business-to-Business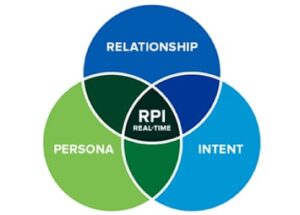 In recent Chief Marketer articles, we've examined the idea of looking at RPI (recency, persona and intent)—instead of RFM (recency, frequency and monetary value)—to drive real-time marketing. In the first article, we looked at how retailers could profit from RPI using the case history of Bob making holiday purchases. In the second article, we looked at Bob's experiences traveling for business and pleasure. Now, let's explore how RPI helps Bob's business partners.
Bob is an executive at a software firm and is responsible for website development. A large part of Bob's job is researching new technology that can bolster his firm's development capabilities and help them provide a better site experience for their Fortune 500 clients. Your company just happens to offer products that fit the needs of Bob's clients, and so he visits your site pursuing his research efforts.
Once Bob visits your site, you begin to understand his business interests based on RPI:
Relationship: Bob is familiar with your products, and has downloaded information previously.
Persona: Bob is researching website development, as determined by his in-session navigation.
Intent: Bob has clicked twice to learn more about secure development solutions, but has not requested more information or a sales contact.
Since B2B is sometimes about online commerce, the key is building business relationships through your website—exchanging information, sharing thought leadership, engaging sales and prospects, and more. For example, in session you are able to identify that Bob represents website development at a software firm based on where he chooses to navigate your site. In the past, Bob has downloaded a white paper on development best practices, but this time he is perusing a white paper on security.
After a few minutes, Bob appears to be ready to leave your site. But you now know your relationship with Bob (previous visitor who has downloaded information), his persona (website development leader), and his intent (researching security). You have an opportunity to engage him in real time.
Before Bob can leave your site, a popup surfaces that engages him with an offer of a free whitepaper on security. Knowing Bob is researching solutions and has downloaded whitepapers before, and he is interested enough to download this one, as well. Furthermore, upon completing the download registration, Bob is also invited to opt in to your monthly newsletter. He opts in, which now adds Bob to your mailing list, a critical step in successful B2B relationship building.
RPI is uniquely successful in B2B in ways RFM cannot. How could you use RPI to build business relationships through your website? Tell us about it.
Karl Wirth is CEO and co-founder of Evergage.