Q&A: Volvo Ocean Race's Sponsorship Adventure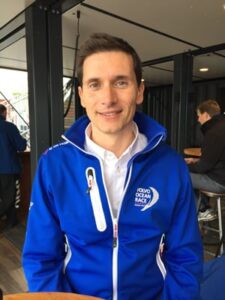 The Volvo Ocean Race (VOR) is a grueling proposition. For eight months, seven teams of sailors race around the world to 12 stops, crossing four oceans. They're out on the sea for weeks at a time, sleeping only two to four hours a night in cramped quarters with no showers or decent meals. And when the race finally ends at The Hague, there's no cash prize: these sailors do it for the love of the sport and bragging rights.
But for both B2B and B2C marketers, it's a sponsorship dream, with opportunities to showcase adventure, sportsmanship and brand values to customers around the globe.
During the race's stop in Newport, RI, we sat down in the Race Village with Jordi Neves, chief digital officer of the VOR, to discuss the marketing of the event and the challenges of connecting sponsors with a worldwide sailing audience.
CHIEF MARKETER: What are your biggest challenges in marketing the race?
JORDI NEVES: The biggest challenge for us is not only selling sailing to a wider audience on the B2C side, which many sponsors are looking for, but also to B2B audiences and even sometimes to a B2E audience. [Sponsors] have employees who want to know about the race, and internal engagement for brands is sometimes as important as the awareness or the ROI. We have a truly global footprint—this is the biggest ocean race ever, eight months in 12 countries, which are 12 key markets for our sponsors. We need to [incorporate] the target markets of the sponsors into the race, and combine them into a route that is both commercially powerful and is sailable.
CM: Numerous sponsors have activations happening around the Volvo Ocean Race Village here in Newport. Are different sponsors featured at every stop?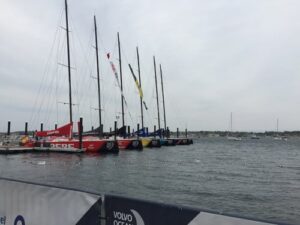 JN: Yes. We have sponsors at different levels. In a way we have two markets for sponsorship. There are brands looking for a global footprint. Then, at local stopovers, we have local organizations and companies that are looking to drive foot traffic and experiences.
CM: Who is the main target audience for the VOR?
JN: It has changed quite a lot. This race has run since 1973 and probably 80 percent of the [race's growth] has been driven by the sailing audience. Then, our B2B audience grew because we had a lot of big B2B brands with us [as sponsors] that were using sailing as a way to show their values and create guest experiences at stopovers. It's more than a sport, it's an adventure, and so the race is linked to the values of our sponsors. And slowly, we've gotten into the B2C area. About 10 countries are key from a B2C perspective, and we have really found a global audience that is following us, not because they like sailing, not because they even come and experience the race village, but because they want to follow the adventure.
---
More on Sports Sponsorships:
---
CM: Do you work with your B2B sponsors to tailor experiences at race stopovers to their customers?
JN: Completely. We sit down with them and try to understand their objectives in key markets and work together. We try to find a real story to tell. We don't have sponsors here who become sponsors just because they want to have their logo on the biggest amount of space possible. They contribute one way or other to deliver the race, or the race experience. All of them have a story and telling that story is the best way for them to showcase their values and create visibility.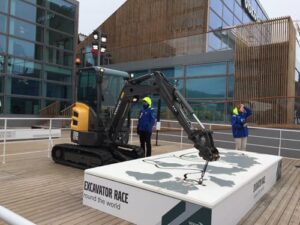 CM: What are some of the ways brands showcase their stories?
JN: We have a big chunk of sponsors who are technology related, like HCL, because this is a technology driven event—not just [the actual race] itself, but the way we tell the story of the race is very technology driven. There are many options. For example, we have a group of sponsors related to sustainability and they find a unique platform with the race. At this stopover, we have the Ocean Summit, and we're working with the local authorities to make a commitment and actually do something [meaningful]. Another area [to showcase] is alternative power sources, and the ways we use energy on-board. And there are consumer sponsorships, which are more about placement opportunities. For example, we have a lot of drink sponsors at different stopovers, depending on local regulations. (In Newport, Heineken hosted a beer garden.)
CM: How does social fit into the mix?
JN: It's huge. It's part of the snowball effect, as we call it. We're talking to a wide variety of audiences. We have the hardcore sailing people, we have corporate people, and we have younger audiences that are more interested in the adventure side and the human story. On the B2B side, in 12 countries, we have sponsors bringing guests here and talking about sailing, and team dynamics, which are important values. Business happens here and it's a pretty good way to get into new partnerships in expanding markets.
---
More Brands Playing to Win:
---
CM: Is mobile becoming a big component of how you're marketing the race and engaging people?
JN: We have Bluetooth beacons that are collecting data in the race village. It is helpful to track people, to be honest. People are consuming the race 24/7, and it has to be mobile. People aren't just sitting in front of the TV anymore to watch the race, and they want to know [results immediately]. It isn't just on the weekend at 3 pm, the race is happening all the time. It's the combination of factors. And if someone is following us on mobile and is living nearby a stopover, we want to connect with them on a physical level too.
CM: Volvo has a pretty big interactive pavilion here to showcase their automobiles and trucks.
JN: With exploration, we're creating an emotional link. [Volvo] doesn't use influencers or famous people—our ambassadors are our audience and the people who experience [the vehicles]. At the end of the day, selling is quite difficult and the vast majority of the people who experience the cars like them. They become the best brand ambassadors.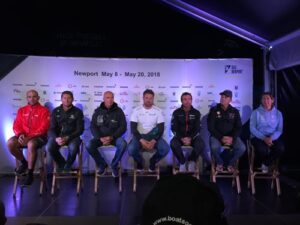 CM: At the end of the day, how does Volvo judge the ROI of the race as a whole?
JN: There's four things. First is the brand awareness—we hope to get four million people experiencing the villages worldwide in this race. In the last race, we had 74,000 B2B guests, so being able to have those numbers is valuable. There's media value, and we're trying to target different markets. The third thing is trying to make sure whether you experienced [the race] physically or virtually, that you're really engaged, and that you are somehow linked to the brand. We do a lot of post analysis after the race. We make sure that if people are following the race for nine months, we don't lose them after. We keep engaging them as much as we can. Then the fourth one, the most difficult one, is tying the race back to conversions and tracking that [for our partners]. For a B2B brand, after the race, there are 50 countries around the world that can be linked to the Volvo Ocean Race. For a B2C brand, we try to drive for traffic, it's whether they've sold a certain amount of products.
CM: When the race is done, is there downtime?
JN: We continue the promotion with evergreen content. We create a lot of documentaries and there is a lot of post race activity. There is a lot of B2E activity—a lot of our sponsors use the non-racing time to help influence culture with employees. In the downtime, they can to activate internally and use the boats and create experiences for employees.