Personalizing Email With Dynamic Content
Dynamic content takes personalization to a new level, allowing marketers to target individual email recipients with different content based on subscribers' demographics or preferences.
The range of options goes from simply inserting a subscriber's name into a subject line to switching out images and full copy according to purchase history or interests.
According to a recent survey performed by Econsultancy and Adobe, half of surveyed marketers see content personalization as critical to digital strategies, but 66% of marketers identify securing internal resources to execute personalized marketing programs as one of the biggest struggles they face.
A whopping 56% of people unsubscribe from emails due to content that's no longer relevant. Personalized content can help keep them engaged engaged.
Dynamic content is incredibly adaptable. It works with whatever data fields you're capturing from your audience, whether that's location, purchase history or spirit animal (sea otter, since you asked). It's also easily trained; it only displays the content you tell it to in response to the data fields you assign.
Marketers can now target individual subscribers with different content even when they're on the same mailing list. For example, Nike's marketing team created and sent a single email, but the image and copy changed depending on whether a male or a female opened it.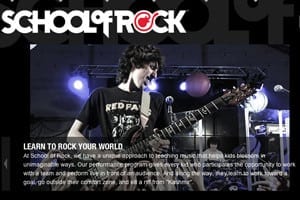 Dynamic content can work for a wide expanse of industries. Consider the School of Rock.
During the signup process, School of Rock captures data on which instruments each subscriber plays. When the school sends an invitation for summer programs, drummers see an image of someone playing the drums, pianists see someone playing keyboards, singers see a singer, etc.
Without dynamic content, this email strategy would be complicated and time-consuming, but with some simple copy and pasting of code, the School of Rock marketing team was able to create a customized experience for each subscriber. The result? An experience that makes every email subscriber feel like the organization understands their interests, instilling a sense of familiarity and loyalty between them and the brand.
Dynamic content can improve click-to-open rates by as much as 73%, according to AVARI. Personalized promotional emails also lift transaction rates and revenue six times higher than non-personalized emails, according to Experian.
With the amount of time it saves—plus a 14% improvement in clickthrough rates and a 10% increase in conversions—the ROI on dynamic content is obvious. By creating a tailored experience for each subscriber, marketers can get major results, save boatloads of time and have fun while doing it.
Integrating email marketing software with other marketing and CRM tools like Shopify, Eventbrite, Salesforce and Formstack creates an endless stream of customer data for you to use. If you have information on your customers' interests, location and past purchases, why not tailor the best message possible for them? If you're not, you're missing out on revenue.
Christopher Lester is the vice president of sales at Emma.