M&M's Rewinds History to Be "Cool": VP Marketing
When Mars began planning for its year-long 75th anniversary celebration for its M&M's brand this year, it went back in history to find inspiration in what would resonate with consumers and be relevant to activate.
And quite a history it has been. In 1941 M&M's was developed for the military as an easy, light, quick treat for soldiers to take to war. The candies have made their way to space and are handed out at the White House to visitors. A contest in 1995 asking consumers to vote for a new color recorded an astounding 11 million votes. (Blue won). It would be shocking to find anyone who hasn't heard of M&M's, let alone enjoyed the sweet treats.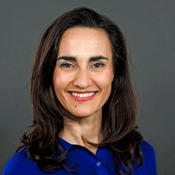 "We have a brand that is part of the American brand," Berta De Pablos-Barbier, vice president, marketing, Mars Chocolate North America, said today at the ANA Brand Activation Conference.
So when it came time to celebrate M&M's 75th birthday, "We wanted to make it really big," she said.
The candy's multiple bright colors, flavors and its origin and history are all elements incorporated into messaging, creative and activations around a single internal rallying cry, "Shelf to Stars." That rallying cry includes three major elements: shelf, social and stars.
"We didn't spend a lot of time thinking about what is going to be that single selling message. We decided to communicate all of it because it's part of the rich history of the brand," De Pablos-Barbier said.
At shelf, the plan is to create eye-catching activities at the point-of-purchase.
On pack M&Ms shares with the public how the look of the characters have changed throughout history. Various types of in-store displays reflect the 75-year message and encourage purchase. New packaging, like the portable pack, play a role and the brand connects with consumers through shopper marketing programs at Walmart and Target.

Voting continues to be a big mover for the brand so it launched #MMSFlavorVote around the election for consumers to participate in deciding the first ever flavor in the peanut variety. Three choices are in play: Coffee Nut, Honey Nut and Chili Nut. (Coffee Nut is currently in the lead). The contest plays out on-pack as well.
"Voting is something that is creating a lot of excitement in the store," she said. "We want to make sure something exciting is happening all year long and the voting starts soon."
On the social/star front, the plan calls for creating a groundswell of content and discussion online where Gen Y lives, works and plays and to engage celebrity partners and create events that inject M&M's into pop culture.
M&M's works with a number of high-profile bloggers and entertainers to spread the message. It owns the rights to the Sammy Davis Jr. song "Candyman" and put Aloe Blacc and Zedd in charge to bring the song back to life in a contemporary way. The remix quickly rose to No. 5 in the dancing category and was turned into a video posted on YouTube and the brand's social sites, which so far, has been watched 11 million times. The content was repurposed into a 60-second TV spot that was released on the popular NBC show, "The Voice." A supporting app was developed for fans to make their own music and share content. Watch the video:

"By developing this song people are talking about the brand," De Pablos-Barbier said. "Social was at the center of everything we did."
The campaign has been paying off with sales "increasing," she added.
In addition, a major party was staged in New York City with 500 attendees, 140 media reps and social bloggers to amplify content from the event.
"We always say we want M&Ms to be cool," she said. "We wanted to make sure people have passion for our brand."