McAdams VIP Campaign: 2011 IMA Award Winner
CATEGORY: Best B-to-B Interactive Marketing Campaign
AGENCY: Marketing Mentors (MMI Solutions)
CLIENT: McAdams Printing
McAdams, a family-owned web-printing firm, had a B-to-B database of 1,800 existing customers, but only 350 were active. In 2010, McAdams installed a high-quality inkjet inline printer that it wanted to advertise to its customers, but also to potential new acquisitions.
The company also faced two other challenges. First, previous marketing efforts focused on trade advertising hadn't demonstrated a direct link to new business. Second, the company didn't have a good system for managing leads in the pipeline, and was concerned that many of the new leads it generated would fall through the cracks.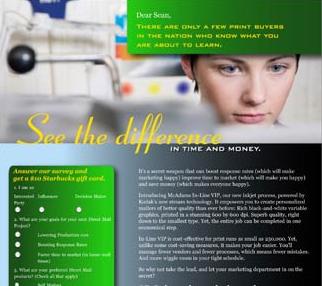 The printer hired MMI Solutions to design and implement an acquisition campaign that pulled in a 27% response. MMI then trained McAdams' staff on how to utilize MMI Edge—the vendor's marketing automation system—to nurture leads until they were ready to buy.
MMI created a multi-touch campaign that included direct mail, follow-up email and web content. It rented 1,000 names, split between print buyers and marketing titles, to add to McAdams' existing file of 1,800. It then sent direct mail pieces to all 2,800 addresses; the pieces included the McAdams web URL and access to a resource center with case studies and information showcasing the new inkjet printer technology.
Ten days later, a follow-up email was sent to non-respondents. One week later, "everyone on the list got an e-newsletter comparing the quality of the old vs. new print technology," says Steve Amiel, president of MMI Solutions.
Each e-newsletter was personalized by a salesperson and described the advantages of QR codes and personal URLs, which the new technology could apply. It also offered incentives for trying the equipment, such as case studies, white papers, Starbucks gift cards and project discounts.
In addition to the 27% response, the campaign also produced a 21% conversion rate, for a total of 350 qualified prospects.
"It sounds unusual in this day and age, but when people take the time to fill out a card, they have a high level of interest," Amiel says.
The system notified salespeople whenever a hot lead was available, and a dashboard provided a series of qualifying questions they could use that were designed by McAdams' management.
A communication module allowed the salesperson to respond appropriately to each lead's request, such as by sending a brochure or setting up a callback reminder. Now, e-newsletters go out monthly. About 85% of the sales staff uses MMI Edge, and they set it up and run it themselves, Amiel says.