Local Social Networking in Play for Sears Hometown Stores
Every one of the 1,238 Sears Hometown and Outlet Stores (SHOS) franchisees has a Facebook page that was set up by corporate, but must be administered by the local storeowner. That strategy has let these operators customize their pages—like this Newton, KS, store—with local discounts and other goings on, as well as provided a portal for corporate to run national promotions across all of the franchisee pages.
The requirement terrifies some franchisees not familiar with social networking, while other embrace it. Some of the Facebook pages have as many as 2,000 fans, while others just getting started may only have one, Lauren McCabe, the manager of digital and social marketing and communications for SHOS, who sets up the pages for new franchisees.
Once the pages are up and running, owners are encouraged to start building their fan base with "low hanging fruit"; friends and family who will happily share the weekly Friday coupon and other specials to begin viral spread. In-store flyers, circulars and e-mails also alert people to new Facebook pages.
"We see this as a key competitive advantage," McCabe said. "We understand that some of our owners may be a little timid and shy on Facebook, but these are all local independent owner-operators and this really is their business. We want to encourage them to customize their pages and to be the face and name and responder behind their Facebook page."
In the first such national promotion since SHOS, which sells home appliances, hardware, tools and lawn and garden equipment, spun off into a new corporation separate from Sears Holdings, the franchisees are offering the "Sears for Life Video Contest" where customers can upload a 25-second video telling a story about their relationship with Sears, for example, when they received their first Craftsman tool set from dad or purchased a Kenmore appliance for their new home. The winners receive a $2,500 Sears gift card and a chance to be featured in a TV commercial. (Only Sears Hometown Stores, Sears Home Appliance Showrooms and Sears Appliance and Hardware Stores are running the video contest since the Outlet Stores, which sells heavily discounted merchandise, had not yet merged in.)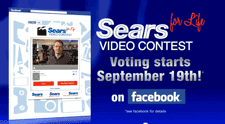 The contest opens to public voting Sept. 19 through Sept. 26, with the winner announced around Oct. 1. In addition to public voting, videos will be judged on creativity and originality, quality of the video entry and fit to the contest theme of "Sears for Life."
The contest is promoted multiple ways. Storeowners are educated about how to update their timelines and set up a tab for the contest, in-store flyers and handouts are provided as are press release templates to distribute to the local press. At the corporate level, messaging about the contest, which ends Sept. 15, is included in e-newsletters, on Facebook, through public relations, bloggers, trade sites and publications, a YouTube video and on the new Sears ShopYourWay.com website.
The Facebook pages are also selling tools: an e-commerce app links to Sears.com, which allows the storeowner to greatly expand product offerings beyond his or her store. As an incentive to move business through the app, any order placed through the app triggers a commission code to give owners credit.
"For a lot of our owners, Facebook is a new world and we want to help increase our digital strategy and encourage them to look at social networks as another a form of communication and another form of revenue," McCabe said. "We really are looking at social being a huge initiative for our organization going forward."
These Hometown stores, scattered across the country, often in rural communities where people are far from shopping areas, embody the 125-year history of Sears when it began all those years ago as a catalog store.