Kraft Lunchables Mall Kiosks Let Kids Game Socially for Prizes
Kraft Foods lunch combinations, Lunchables, has set in motion a major campaign to put its lineup of convenient meals for kids at the top of mom's grocery lists during the back-to-school timeframe. An opening twist to the integrated campaign, "Never Be Bored Again," is an innovative interactive kiosk game where kids can play against players in other cities in real time. The game rides along with a slate of other promotions and advertising efforts.
While promotions have been a marketing staple for Lunchables, "Never Be Bored Again," is its largest in terms of the number of prize available to win.
"Before creating this campaign, we talked to a lot of moms and a lot of kids," Joe Fragnito, director of marketing for Lunchables, said. "Moms told us they want to help their kids grow and experience adventures that will help kids see what they are capable of doing. Kids told us they like to make their own fun. So, it just made sense for us to give kids even more ways to unbox the fun, use their imagination and do the things they love to do."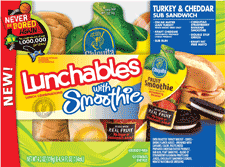 Let's take a look at the brand's plans to up its market share.
1. In stores an instant-win game on some packages targets kids ages six to 13 with a chance to win one of more than 1 million Hasbro toys, games and video downloads at the online hub. The game runs through February 2013.
2. In theaters, viewers will see the first long-form Lunchables Lunch Combinations spot introducing the "Never Be Bored Again" promotion with imagined kids adventures. The spot airs before six new movies for kids, including "The Diary of a Wimpy Kid: Dog Day," "The Odd Life of Timothy Green" and "Hotel Transylvania. The spots began Aug. 10 and will run through Oct. 25.
3. New 15- and 30-second TV spots, "Parachutes," will hit airways Aug. 6 through Nov. 25 on kid-friendly channels, including Nickelodeon and ABC Saturday, encouraging moms and their kids to go to the grocery store to play the instant-win game. The spots show a million prizes falling from the sky.
4. "The Fort" digital hub houses the "Never Be Bored Again" online instant-win game and provides interactivity, such as letting kids build their own avatar to play games online and customize their own Tree House, Sport Court backyard court, or Ultimate Game Room.
5. In a cause-marketing component, every photo that's uploaded to the site through Oct. 15 will trigger a $1 donation to the Boys & Girls Club of America. By sharing the photos with friends via Facebook, consumers will receive a $1 coupon for new Lunchables with Smoothie.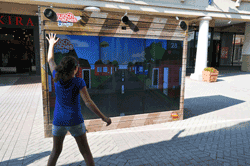 6. The interactive out-of-home games, which opened for business Aug. 1 are located in five malls—Atlanta, Chicago, Dallas, New York and Los Angeles—and will close up Sept. 15. The games are played from kiosks through multi-touch and gesture-recognition technology so players use their bodies to control the avatar. Large screens create a life-size gaming experience with onscreen photos so the players can see their opponent. The gaming stations feature three games: Dodge Ball, Basketball and Run from Boredom. Lunchables with Smoothie Turkey Cheddar Sub logos brand the games.
On Aug. 28, the official kick-off of the campaign will be held at a Boys & Girls Club of America with actress and mom Tori Spelling.
"As moms and kids start gearing up for the inevitable return to school in the fall, reinforcing the fun of Lunchables is especially timely," Fragnito said. "Our two key seasons are back to school in the fall and field trip season in the spring, so typically, our biggest integrated programs align with that timing."