Kate Spade Taps AR to Get Customers into New Paris Store
At a time when retailers are closing stores by the dozens and laying off thousands of employees, brands like Kate Spade are looking to tech to create one-of-a-kind experiences.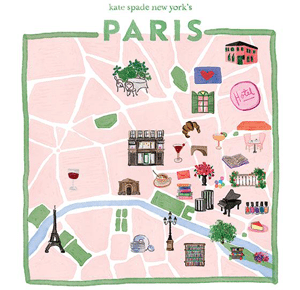 For Kate Spade's new flagship store in Paris, Kate Spade New York, that meant drawing on augmented reality to drive consumers to the store with a unique experience. Tapage's Little Paris app provides the "Joy Walks" AR experience that offers an interactive journey through Paris with a reward upon arriving at the brand's new store, GeoMarketing wrote.
The app works as users physically follow a map with three popular fashion influencers as guides. The users will come across real world locations with visuals such as flamingoes standing in the Seine or a New York City cab cruising down a street, GeoMarketing said. Once at the store they are rewarded with a set of branded pins.
Brick-and-mortar retailers are facing crushing competition from online retailers Walmart and Amazon. To fend off further damage, retailers' innovative technology experiences like "Joy Walks" are at a premium for marketers.
Toys R Us, which recently filed for Chapter 11 bankruptcy protection, just unleashed a new campaign that includes an augmented reality app, experiences for adults and TV spots. The app, Play Chaser, is aimed at getting kids and their parents back in Toys R Us retail stores by turning store visits into virtual playgrounds.
The recent launch of Apple's ARKit and Goggle's ARCore is an indicator that these technologies are in demand by both marketers and consumers. Revenue for augmented reality devices and content is projected to reach a stunning $36.4 billion in 2023, according to Forbes, citing research from Greenlight Insights.
AR is being used by marketers across categories and industries. Patrón Spirits is one of the first brands to launch AR technology powered by the new Apple releases of the iOS 11 with ARKit. The Patrón Experience app, which debuted at the Apple App Store Sept. 19, gives users the opportunity to transport themselves to a virtual world at the Hacienda Patrón in Jalisco, Mexico, the private distillery where the tequila is produced and bottled.
Adrian Parker, vice president of marketing at Patrón Spirits, leads the brand's most recent tech innovations, including The Patrón Experience. He spoke with Chief Marketer about how this new technology is a major moment for the future of experiential marketing and how he envisions using AR down the line.
Related articles:
Technology Trailblazer: Patrón Innovates with New Apple AR Tech
 AR, Experiences, Unleashed to Regain Toys 'R' Us Customers
Amex Ups Game at U.S. Open with Augmented Reality Experience