Instagram Users Can Now Shop on the Spot
Instagram has launched "Checkout" as a new way for users to shop on the spot.
More than 20 major brands have signed on to test the service, including adidas, Burberry, Dior, H&M, Kylie Cosmetics, Michael Kors and Zara.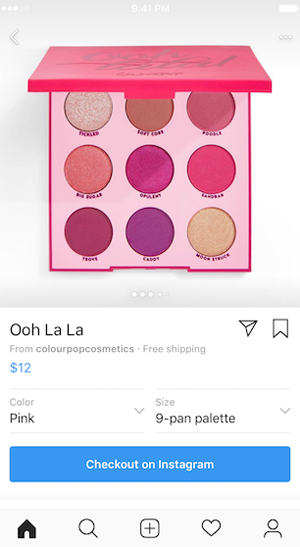 Instagram users that tap to view a product from a brand's shoppable post will see a "Checkout on Instagram" button on the product page. Once tapped, various options can be selected such as size or color, and then payment can be made without leaving the app. At the first checkout, customers enter their name, email, billing information and shipping address.
After that first order, the user's information is saved for convenience the next time they shop. Notifications about shipment and delivery are posted inside Instagram.
Instagram already knows what users like and will offer them items that it knows they might buy based on past online behavior. And, it knows shoppers are on its platform. About 130 million users have already tapped on shopping posts each month. That's a huge jump from the 40 million since September, Instagram said.
Just about a year ago, Instagram introduced a dedicated space for shopping called Explore. Users find shoppable posts from brands they follow plus ones that Instagram thinks the user might like. A tap on the post finds details about the product and a shopping link. It also added shopping stickers in Stories to its Shopping Suite and a redesign of the dedicated shop tab on business profiles.
---
You May Also Enjoy:
---
Instagram isn't the only platform steering users toward new digital malls. Amazon lets Prime members tap a digital button to reorder a staple product. That's an enhancement over its recently retired "dash button," a stick on button that let consumers also reorder staples for the home like laundry detergent and paper towels. Pinterest debuted its Pinterest 100 trends for 2019, helping users in search of—and wanting to buy—anything from super powders to supplies for DIY home owners.
As for omni-channel retailers, they aren't about to be left behind. As many as 78 percent of retailers in the apparel, department store, big box and specialty sectors—and 41 percent of more than 400 brands—have shoppable Instagram accounts, the 2018 Gartner L2 Social Platforms and Influencers Intelligence Report found.