IEX CMO Kate Gunning on Why Brands Should Show AND Tell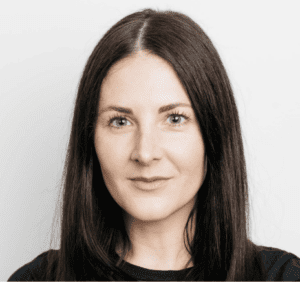 Sure, it can be great to tell your brand's story. But an even better approach is to bring it alive for customers and prospects, says Kate Gunning, new CMO of Investors Exchange (IEX).
"Actions speak louder than words," says Gunning. "As marketers, our big opportunity is to demonstrate the brands that we're telling the story for, rather than just telling the brand's purpose."
Founded in 2016, IEX is a stock exchange for U.S. equities. The company became famous when author Michael Lewis chronicled the story of founder Bradley Katsuyama and the way increased speed of data led to the rise of electronic trading in his book "Flash Boys: A Wall Street Revolt."
Gunning joined IEX last month from J.P. Morgan Asset Management, where she was global head of brand. Prior to that, she worked for several different agencies including JWT, Portas and McGarry Bowen, where she worked on launches for brands like Kit Kat, Kleenex and Clarks Shoes.
In marketing, the goal for IEX is to find organic ways to demonstrate the brand story. Branded content campaigns with partners such as Bloomberg or the Wall Street Journal have helped accomplish that. "The mediums that are the most effective depend on the business goals," she notes.
"We want to be seen as a collaborative partner—that's a story we're excited to tell," she says. "There a challenge to create buzz and awareness of how we can drive innovation in the market."
---
You May Also Enjoy:
---
One example of innovation the company wants to promote is IEX Cloud. The new financial data platform came out of beta last month and provides financial data access for professionals such as developers building platforms and academics doing research.
"We want to make financial data more accessible to further the work they do," says Gunning, noting the platform already has 10,000 new clients in 80 countries. "There's an organic opportunity to inspire fairness and innovation, starting with the financial market and expanding into other disciplines."
IEX's target audience varies on the area of business. For Investors Exchange, the target is brokers, investors and people working on U.S. equity desks. On the listings side, the audience is CEOs, CFOs and investor relations officers. For the cloud business, it is professionals like web developers creating applications for uses such as financial literacy.
"The marketing challenge is not so much about reaching decision makers, but understanding their behaviors," she says. "We're learning what their motivations are and ensuring we can paint a picture of how we can align with their needs."
The sales cycle varies depending on the product. For listings, the conversation could take up to 24 months, because of the large number of decision makers involved. For the cloud business, it can be extremely short, because developers need information quickly.
As with many organizations, figuring true marketing ROI isn't always easy. Some initiatives for IEX are more focused on cost per acquisition, while others might be geared to creating awareness or shifting sentiment. Trade volume before and after campaigns is considered, to see what happens when certain initiatives are in market
"Attribution is a challenge for everybody, and if they say it is not, they're not being truthful," she says. "Where marketing hits the sweet spot is when it is both attention grabbing, perception driving and business building. We want to understand what drives different kinds of lift."