How Wyndham is Uniting All of Its Hotels Under One Brand
One year ago, after spinning off from parent Wyndham Worldwide, Wyndham Hotels & Resorts united its 20 hotel brands under the "by Wyndham" banner  with the goal to emphasize the breadth of the company's 20 hotel brands, locations and range of options from economy to upscale lodging.
"Some of our brands had Wyndham in their name—Wyndham Grand, Wyndham Hotels and Resorts, Wyndham Garden—and some of our brands did not like Days Inn, Super 8 and Ramada," says Lisa Checchio, CMO, Wyndham Hotels & Resorts. "We found ourselves in a situation where, while we were a new company with brands that everybody knows, they didn't know that they all belonged to Wyndham."
Now it is sharing that news with its first U.S. multi-million campaign, "By Wyndham," since the spin off.
Creative emphasizes the extensive breadth of the company's locations and its family of brand flags across the country. The key message reminds travelers that they are likely only about 10 minutes away from one of the 6,400 U.S. hotels by Wyndham no matter where their travels take them.
The fully integrated campaign kicked off April 23 in advance of the business summer travel season. TV spots are airing on programming including live sports, morning news, and primetime viewing on popular networks like Food Network, Travel Channel, HGTV, TBS, Comedy Central and ESPN.
---
Other articles you might enjoy:
---
A major digital push includes online streaming and digital video, video-on-demand, mobile, social media and digital channels. Streaming and terrestrial radio are also in the mix.
"Our strategy is an ideal blend of TV that is consumed in a live sports or event broadcast in addition to focusing on digital video to reach the cord cutters. We're going where our guests are," she says.
In partnership with global ad agency DDB and Stink Films, the campaign visualizes relatable travel scenarios—from visiting a child at college, to traveling for business, and taking the family on memory-making vacations like this 30-second spot:
Knowing that its audience is more and more reliant on their mobile devices, a partnership with FourSquare uses media units that drop down on users screens to show all the Wyndham hotels within a 10-minute radius.
"What we like about this type of execution is that the emphasis is—on price and proximity. Eighty percent of the U.S. population lives within 10 miles of a Wyndham. We like the stickiness of this campaign in really driving home that idea."
The campaign also includes social activations that tell the stories of individual hotel brands that ladder up to the overall portfolio story. Interactive gifs and spots are popping up on social channels to leverage those brands.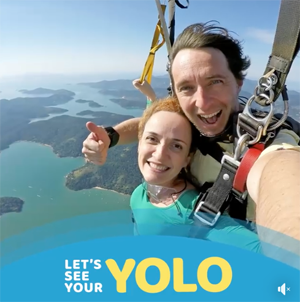 For example, for Days Inn, a "FOMO2YOLO" sweepstakes encourages Twitter fans to share their "dream YOLO (you only live once) moment" in the comments section for a chance at prizes including 30,000 points or two free nights. The content is only be seen on Days Inn's channels to promote that brands 1,400 locations.
The new campaign also reinforces the Wyndham Rewards program, which has 75 million enrolled members.
Measuring the success of the campaign will be tracked by channel.
"We will look at the purpose behind each of our channels—visits, brand health metrics tracking, perception and consideration—and work to understand how all of the channels we're advertising in ladder up to the overall brand."