How Small Businesses Can Use Social Media Platforms During the Pandemic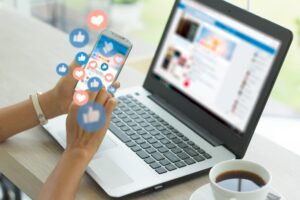 Social media plays a key role in how many brands have remained connected to customers during the pandemic. Small businesses in particular that are affected by the COVID-19 crisis can use social media platforms to engage customers, offer support and build trust when other methods of communication—including in-person interactions—have disappeared. The Social Shake-Up looks at how companies can use the top social platforms to communicate with customers and provides platform-specific tips for crafting your keyword usage strategy.
Facebook
Facebook recently launched an online ecommerce ecosystem, Facebook Shops, that gives businesses the ability to set up virtual storefronts. Brands can also upload customer email lists to the platform to reach custom audiences for reopening updates and use Facebook live to boost organic engagement. Keyword search tip: Use Facebook's audience segmentation tool to leverage specific keywords.
Instagram
Instagram has launched Support Small Business stickers to help businesses that are suffering from the pandemic. Daily Instagram Stories will help keep the business top of mind, and Action Buttons allow consumers to shop and order gift cards within the app. Keyword search tip: Geotarget your keywords, since posts with locations get much more engagement.
LinkedIn
LinkedIn now has a Virtual Events tool that allows brands to meet with employees and share updates while social distancing. It also recently launched LinkedIn Live video, a feature that boosts profile engagement significantly. Keyword search tip: Since LinkedIn is a more conversational platform, make sure both your posts and keywords match your brand's products and values.
For more social media tips for small businesses, read on in The Social Shake-Up. And for keyword search tips for additional platforms, including TikTok, YouTube and Pinterest, go here.
---
Other articles you might enjoy:
---