Heineken Helps Restore Abandoned Miami Marine Stadium
A campaign designed to position Heineken as the "Beer of Cities" is helping the company improve brand consideration among Millennials, create social buzz and most importantly, increase the volume of beer sold.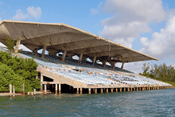 Heineken has already executed a number of major special events around its "Cities" campaign including an installation of lights on the San Francisco Bay Bridge last year. It is currently in an Indiegogo crowd-sourcing partnership with the National Trust for Historic Preservation to raise money to restore the historic Miami Marine Stadium. The stadium, which sits on the water's edge, has been abandoned for more than 20 years.
Watch the video, developed with Publicis, explaining the project:

Raul Esquer, brand manager, Heineken USA, spoke in June at Chief Marketer's PROMONext: Leaders in Promotion Marketing Conference and shared the concept behind the ongoing Heineken "Cities" campaign. Read the article.
Related articles:
Heineken CMO Puts Energy into Digital to Reach Millennials
Absolut's Nicholas Guastaferro on Amping up Absolut Nights