Grant Thornton Aims for Status Go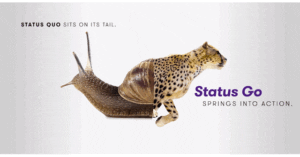 Tax and audit firm Grant Thornton has launched its first ad campaign in eight years to increase awareness with prospects in the financial marketplace.
Launched in early June, the campaign created by gyro Chicago centers on the theme of "Status Go," with the idea that it is the opposite of simply being happy with the "status quo" of how things are now. "Status quo limits you. Status Go lifts you. Welcome to Status Go," the campaign proclaims.
For Grant Thornton, bucking the status quo means going up against the "big four" accounting firms—PricewaterhouseCoopers, Deloitte Touche Tohmatsu, Ernst & Young, and KPMG—as a fifth place "challenger" brand. John Harmeling, CMO, Grant Thornton, notes that even large brands need to look at themselves as challengers to stay competitive.
"Are you creating new client/customer experiences? The reality is that most brands are challenger brands," he says. "For example, Dunkin has 60% of the donut market but in the coffee segment they are a distant second to Starbucks."
To become a challenger, brands need to identify their biggest differentiating point in the market. For Grant Thornton, that was a corporate culture with engaged employees that have a collaborative spirit with clients.
"With existing clients, consideration [for us] and our brand metrics are top of market, going to our brand metrics, but with prospects our awareness is too low," Harmeling says. "We need to help them see how we can meet their needs and help them mitigate risk."
The campaign is utilizing print, social and digital, using highly targeted data sets to contextualize the message and make it relevant. ROI will be judged through sales, as well as brand awareness.
"We want to be sure we hit certain benchmarks," Harmeling says. "We know we have to clear certain hurdles on awareness—the goal is to reintroduce us to the market."
Related Articles:
Aramark Wins Top B2B Honors at PRO Awards 
Marketing Automation Helps Cataract Steel Expand Customer Base