Godiva Plans to Grow its Business Fivefold in Six Years
Godiva is gearing up for the holidays—its biggest selling period—with a bold plan to grow its business fivefold over the next six years.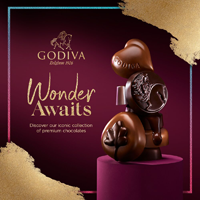 The latest campaign, "Wonder Awaits" consists of both photography and videography advertisements. The storyline plays off a loose homage to its founder Pierre Draps, who as a young man in Belgium learned how to make his now famous truffles to delight his wife. The campaign signals a transformation and reintroduction of the brand with a goal to reach a younger audience.
"The campaign was created to invoke curiosity and wonder. Godiva is promising something wonderful, something exciting—the feeling of anticipation of what's to come when a customer chooses this chocolate," says John Galloway, CMO and innovation officer at Godiva Chocolatier.
The videos features two young characters, Pierre, a chocolatier, and Mimi, a lover of sweets. Together, they indulge in Godiva chocolate, which plays a central role in their connection, and helps to grow their relationship.
The campaign is distributed on leading media properties, including YouTube, Facebook and Instagram in addition to media publishers like PopSugar and BuzzFeed.
---
Other articles you might enjoy:
---
Globally, the brand is investing multimillions on the total ad campaign, with a focus on the key selling periods beginning last month and running through 2020.
"The 'Wonder Awaits' campaign signifies an evolution and reintroduction of Godiva with exciting, uplifting creative concepts that are a new approach for the brand," Galloway says. "The colors, visuals, words that are used to describe the brand and the overall style of the ads, present Godiva in a modern way."
Advertising momentum and engagement will be key in measuring the success of the campaign.
This year has been a year of firsts for Godiva, starting with the opening of its first café in the Americas, with plans to have 15 cafés opened by the end of the year.
"Godiva is growing exponentially, and we are dedicated to create wonder and delight for our consumers at every touchpoint along the way—whether it be in our boutiques, cafés, at grocery and retail stores, or online," he says.