Coupa CMO Chandar Pattabhiram on Taking a B2B Brand Mainstream
Taking a B2B brand mainstream is a tricky business. In the case of Coupa, a leading technology platform in the business spend management category, that journey entails leveraging live TV, specifically sports, to not only increase brand recognition but also enhance category awareness. At this year's World Series, Coupa sponsored a "Maximum Value Play of the Game" and ran commercials that supported its "value as a service" philosophy. Following is a chat with Coupa CMO Chandar Pattabhiram about the next stage in the company's growth strategy, the importance of lifecycle marketing and the qualities that a modern CMO should master in today's business world.
Chief Marketer: Where does this campaign sit in terms of Coupa's evolution as a brand?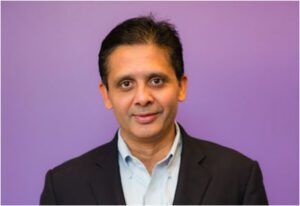 Chandar Pattabhiram: It's an interesting stage in our journey. We built a great company; and we're in a state to build a great brand. As a B2B company, we don't have the luxury, like a B2C company, in terms of getting that mass awareness. That's why in the last year or so, we made a conscious transition from what we call contextual marketing to buyers in the business spend management space, whether CFOs or procurement executives, to more mainstream marketing to build a great brand. And [it's about] how do we get that more mainstream and pervasive approach to our marketing tactics and strategies.
CM: What is the impetus behind the campaign?
CP: From a brand-building perspective, we are trying to raise category awareness as well as company awareness. That's really important for us. It's less about Coupa and more about elevating the narrative about business spend management, because the traditional perspective on business spend management could be that it's a transactional thing. It's a cost-cutting thing. But if we can elevate that and think of the power of spend as being transformative, it's an opportunity to have more resilience in our supply chains and drive more value to the bottom line.
The essence of the campaign for us was in the World Series. We branded a special moment called the "Coupa Maximum Value Play of the Game." So it's one, elevated to a category awareness of the transformative power of spend, and two, having some attribute awareness for your brand and saying you're all about value. If you're able to do that at the largest moments for the most eyeballs at the most efficient price, then hopefully we'll be at a good ROI.
CM: In addition to TV, what other channels have you used to market this?
CP: First, there's the out-of-home. We've done TV and Fox, and we've done TV in Europe with Premier League and Formula 1 and Bundasleague. We're getting the message across the world in moments of F1 … Our whole website has been transformed to talk about the inbound experience.
We've also hit it through our social channels with Fox, with ourselves, et cetera. We have doubled down on going after the CFO on CNBC—because every CFO wakes up in the morning checking where the markets are. So we've doubled down on the same message through a broad channel, and then in all of our campaigns, our outbound messaging is "behold the power of spend." And the last thing is our flagship Inspire event. We are continuing the same theme in all our physical events.
CM: How are you gauging the success of the initiative?
CP: There are a few ways to measure it. The first way is, are we getting increased traffic through our inbound website based on the awareness, which we are seeing significantly over the last two weeks. Second is, it's a community activation thing. We're getting more people in our community being engaged by this, because it's a feeling that I'm part of this special community, business spend management. We have surveys into our community as well as touchpoints we did with our customers in terms of how they're reacting to it. And third is a longer thing, in terms of revenue marketing and prospects and how they are impacted by this. That's more of a six-to-18 month exercise. And the fourth thing is that it's a fascinating thing on the recruiting and advocacy on the employee front. I will tell you that the number of emails we've gotten from employee prospects [is increasing]… it's a very interesting angle for us.
CM: Did the pandemic influence this campaign in terms of timing or execution?
CP: Yes, it did. And I'll tell you why. So, why is spend more important today than two years before now? Because the pandemic made us realize the importance of two things. One is the importance of efficiency in the impact of the bottom line… and the importance of digital transformation to do that. And in this transformation, the back office has come to the forefront because of the bottom line. The second is around the importance today of the resilience of your supply chains… those two things have been a great impetus for us to tell the story now.
CM: Is there a trend that you feel that marketers should be laser-focused on right now?
CP: The idea of lifecycle marketing. For a lot of B2B marketers… [there is] this concept of acquisition marketing, being responsible for leads and pipeline and trying to feed the sales organization, which is all important. But more than ever today, keeping a customer and expanding thoughtfully is more important than ever. So, you have to look at it as a flywheel—not just awareness to drive acquisition, but acquisition to expansion, and really focusing on those pieces in a programmatic way. And also balance the boat in terms of how you look at spend in your marketing organization so you're not imbalanced on just acquisition marketing but more expansion and customer marketing.