Be Informed to Connect with B2B Buyers: Forrester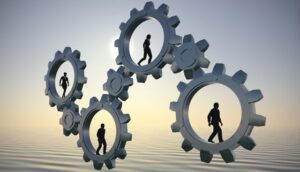 To the surprise of no one, more than ever, B2B buyers want to do their own research, and increasingly, online ordering. For B2B sales reps, this means an ever-rising risk of displacement.
In an updated version of its "Death of a (B2B) Salesman" study released this week, Forrester reports that B2B sales process continues to become more automated, to enable digital commerce and empowered B2B buyers.
"Today, 68% of B2B buyers prefer to research online on their own, up from 53% in 2015," when the initial version of the study was released, notes Forrester lead analyst Andy Hoar in the report.
B2B buyers no longer care what channel they research or buy in, or what channel they access for customer service—they just want the experience to be relevant and seamless wherever and whenever they interact with your brand.
In 2015, Forrester predicted that the shift from offline to online B2B ordering could displace one million U.S. salespeople, primarily those in positions of order taking for low-ticket items.
For high-ticket purchases or services, however, B2B buyers are amendable to talking to experienced sales representatives. Interviewees told Forrester that they want to talk to "consultants" who know their business—at their convenience and with less pressure to sign on the dotted line.
"They want easy and seamless interaction with sales professionals who think strategically, and they don't want to play games with escalations to sales senior management," wrote Hoar.
That means coming to the table prepared, and many B2B sales reps fall short. B2B buyers told Forrester that only 20% of meetings with sales pros focus on their needs.
"B2B buyers expect them to do their homework ahead of time, know their prospect's challenges, understand the competitive context, and define specifically where they can create immediate value," Hoar wrote.
As B2B companies enable more efficient digital ordering practices, both cost and customer efficiencies are being realized, according to Forrester. Coca-Cola, for example, reduced its average cost-per-interaction by 85% by moving offline B2B customers online. And, US Foods said that customers who buy online spend 5% more than those who only buy offline, while Levi Strauss reported that shifting its B2B customers to a self-serve portal increased its revenue by 10%.
Forrester notes that many B2B organizations have focused digital efforts on B2B ecommerce for low-consideration purchases, but haven't really focused on beefing up their digital offerings to support more complex sales that require assistance.
Properly used, digital tools can help make interactions with sales reps more effective. For example, Hoar notes that MillerCoors sales reps use a tablet app developed by Mediafly to show bar owners how they can maximize revenue per tap-handle pull by swapping out a craft beer for premium beer Blue Moon.
"Such technologies enable sales reps to create proposals, show business cases, make product recommendations, and assemble customized financial models—all dynamically and in real time," he writes.
 Related Articles:
Chief Marketer's B2B Lead Gen Survey
Marketers' Most Wanted: Teachers
Trucking Firm Celadon Speeds Ahead With Agile