Atlanta Falcons Transforms Fan Experiences: Webinar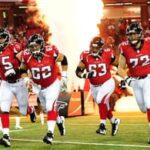 Customers today want more than disjointed "moments" in their journey with your brand. They want a seamless experience through every facet of their relationship with your organization.
The Atlanta Falcons partnered with IBM to transform their customers' experience by mapping out the early stages of their fans' engagement pre-kickoff and nurturing those customers to the final on-site experience at games.
How can you identify and track the true business impact of a customer's experience?
Join us Wednesday, Sept 9 at 2 pm ET for a live webinar with an in-depth look at the Atlanta Falcons' engagement transformation with Shannon Miller
, the interactive experience
, North America sports and entertainment lead
 of global business services for IBM, and Brick Carley, client partner, IBM Interactive Experience.
Creating an exceptional customer experience is a game-changer. Digital marketing platforms, analytics, mobile channels and interactivity have all formed a huddle that impacts how better customer engagement can drive revenue.
"We know that creating the ultimate fan experience means meeting fans where they are, providing them with the platform to interact in a seamless way, and introducing them to new offerings that exceed expectations," said Rich McKay, president  & CEO of the Atlanta Falcons in a statement. "IBM understands the commitment we are making to our fans and will help us reset the bar in terms of fan experience, technology and sustainability for sports and entertainment complexes globally."
This isn't IBM's first time on the field. It has helped transform the fan experience at numerous major global sporting events, including Wimbledon, French Open, Australian Open, Masters Golf Tournament and the U.S. Open golf and tennis championships
"A live event is no longer about sitting in a seat and watching a game or concert, but a convergence of physical and digital experiences for today's fans who are looking for the best way to get to a game or view highlights from their mobile phone," said Bridget van Kralingen, senior vice president, IBM Global Business Services.
Learn more in our live webinar Wednesday, September 9.