Arm & Hammer Reinforces Brand Value with Mobile Coupons
This year, the number of U.S. consumers redeeming mobile coupons is expected to rise to 28.7 million, or 13.5% of adult mobile phone users, up from 9.5% in 2011. The news gets even better. By 2013, that number will nearly double, and 16.5% of all U.S. adult mobile phone users will redeem a coupon that year, according to eMarketer.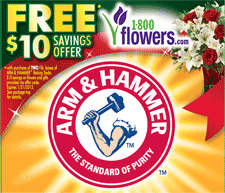 Here's an example of how Arm & Hammer is using a mobile coupon tied to a partnership offer as a way differentiate itself from competitors.
Arm & Hammer is running a mobile-enabled coupon offer, using a purchase validation solution from mobile technology company SNIPP! Any customer who purchases two one-pound packages of Arm & Hammer baking soda by Jan. 13, 2013 can claim the offer by text or email.
The customer simply takes photos of the original receipt with the product and price circled and the two packages showing the bar codes. The photos are then submitted by text or email, which triggers an automatic confirmation and request to complete an online registration form. It's designed to be a simple process since photography capabilities are built in to about 97% of mobile phones.
Within a week of submitting the required photos, the customer will receive a $10-off code for 1-800-flowers that is valid through April 15, 2013. The offer appears on 4 million boxes distributed nationally across all retail stores, which carry Arm & Hammer Baking Soda, including Walmart, CVS, Walgreens and Target.
To prevent fraud, the receipts participants photograph and submit are run through image technology to make sure that receipt doesn't already exist in the database. As a second form of protection, key details from the receipt are transcribed to see if those details find a match indicating duplicate entries, SNIPP! Founder Ritesh Bhavnani said.
From a metrics standpoint, the brand is provided with any number of data points, including how many people submitted, the average purchase value for each receipt, where the product was purchased and the date. Additional information can also be had such as what other products the entrant purchased that day. This can be important for some brrands working with retailers who are hesitate to share customer data.
"The key is that the retailers themselves are not giving the brands this information, so increasingly brands are looking at solutions that provide them with individual level customer data," he said.
Arm & Hammer runs a similar campaign every year—but in past years it has been doing it using physical forms that people had to fill out and send by mail. The primary driver for using mobile was that it was more convenient for consumers and more cost effective to execute.