7 Behaviors of the Growth Leader
C-suite executives and senior vice presidents with growth responsibilities have specific beliefs and behaviors, according to a survey by McKinsey.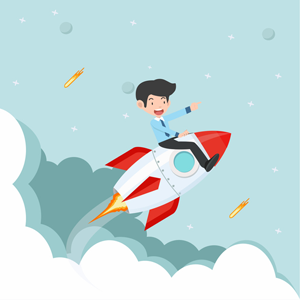 1. Growth is everywhere
"Growth leaders put growth at the top of every agenda, from board meetings to performance reviews," the authors of the report said.
These leaders search out funds to invest in growth, with a clear vision of where every incremental dollar should be invested and set targets almost impossible to reach forcing teams to push hard. They make growth the central focus of everyone in the business.
2. Growth leaders are willing to fail
They make more bets, delegate more and empower people to make important decisions. They encourage risk taking, even at the lowest level.
3. The customer takes centerstage
"Customer insights and analytics are crucial to supporting growth. But growth leaders go the extra mile by embracing design thinking and taking the time to build empathy with the customer," the report said.
4. Growth decisions can make or break a career
Growth leaders take risks, even trading short-term gains for long-term benefits.
"Growth leaders value speed over perfect insights. They don't wait for perfect data. Instead, they use the data they have to make a thoughtful decision, pursue it vigorously, and then reevaluate based on results," the report said.
---
Other articles you might enjoy:
---
5. Fight the good fight for growth
The pressure is always on to deliver short-term results, but these leaders make deliberate resource-allocation decisions that position the business for future growth—and they are vigilant in not allowing those resources to be clawed back.
6. Articulate a purpose
"They go beyond the usual channels (progress updates, newsletters, town halls, and the like) and develop a comprehensive communications plan targeting all stakeholders. They often, for example, tell their story to the outside world in order to motivate employees, shape investor perceptions, and convey their aspirations to customers," according to the report.
7. Give power to others
These leaders invest more time in formal and informal growth training, including encouraging people to make decisions without providing a structure. Growth leaders aren't afraid to close gaps in their own business models or capabilities through partnerships or joint ventures with other businesses.
The survey was conducted with 165 c-suite executives and senior vps with growth responsibilities along with in-depth interviews with 20 executives.