2012 PRO Award Winner: Team Detroit for Ford
Ford wanted to improve its brand strength in the compact/subcompact car market. The 2011 Focus underwent a major overall and changes to the vehicle were dramatic, but Ford needed a way to reach its active, under 40 target audience, change brand perception and increase both favorable opinion and demand for the vehicle. "Focus Rally" —an interactive reality web series—was designed to get people to rally around the launch. A press conference in Detroit announced the promotion and drove consumers to www.focusrally.com.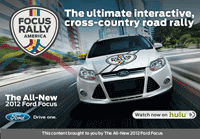 Focus Rally allowed consumers to engage on multiple levels, even affecting the outcome of the show. Partnering with the creators of the "Amazing Race," Ford pulled together six teams of two people with strong social/web personalities. Each team received a Focus, which they drove on a road rally across the country for five weeks.
To spread the word, the Focus Rally took over the Super Bowl Pre-Kick show with graphics, billboards and TV spots to recruit even more people to join the online game.
Ford partnered with Current TV to create a series of integrations with the team players. Olympic gold medalist Jonny Moseley, also known for hosting MTV's "Road Rules," hosted the program. Three weeks prior to the start of the Rally, the six teams were announced on the microsite. They used their social channels to recruit virtual team members.
"Focus Followers" got involved by pledging support to a team and playing online to earn rewards. Original show content was created daily and aired on Hulu.com, marking the first time an advertiser had been recognized as original programming. Content was also distributed through digital, mobile, social and game system platforms.
Focus Followers communicated with the teams and engaged with the show as they helped their teams win. They were rewarded for game play with points, badges, unique experiences and the ultimate prize: a new Focus.
Consumers definitely rallied. After just eight weeks, more than 500,000 unique visitors had spent more than 66 million minutes online and posted 120,000 comments on focusrally.com, Facebook and Twitter.
The net result: More than 80% of the target audience was engaged with the Focus prior to entering the dealership. The Focus moved from 9th to 4th place in the segment on Favorable Opinion and from 8th to 3rd place on Purchase Consideration. And Focus was the fastest selling vehicle in the segment during the first five months of availability. A new Focus sold, on average, in 11 days, vs. 45 days for all cars in the category.